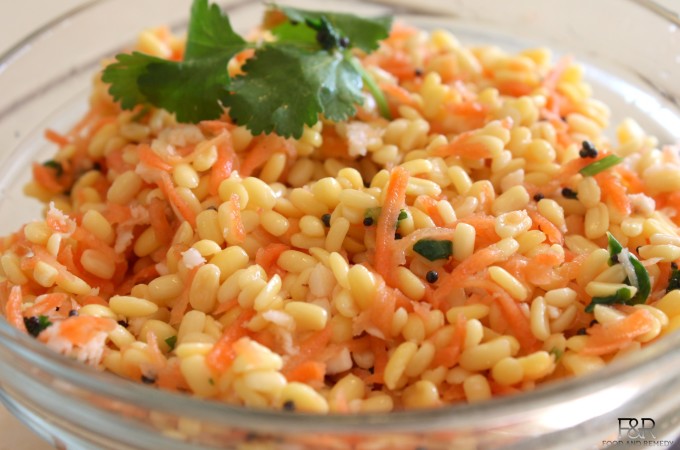 Mung bean salad, or kosambari, is traditionally prepared on festivals days in Karnataka. It is a healthy salad which is high in protein and fiber, and can be included in the everyday meal.
Ingredients for Mung Bean Salad:
½ cup dry mung dal (soaked for 1 to 2 hours and drained)
1 cup shredded carrot
2 to 3 tablespoons grated fresh coconut
½ teaspoon salt
For seasoning:
1 teaspoon oil
1 teaspoon mustard seeds
1 pinch asafoetida
1 green chilli (chopped)
1 tablespoon chopped cilantro
How to make Mung Dal Salad or Kosambari:
Mix soaked split mung beans (mung dal), carrot, coconut and salt thoroughly.
Heat the oil in a ladle, and wait for the oil to reach the right temperature. To check this, add a small amount of mustard, and it should start cracking/popping. If it is at the right temperature, add the mustard seeds, asafetida, cilantro, and chilis. Let everything sit in the oil for few seconds.
Add this seasoning to  split mung dal,  carrot, coconut, and salt mix/salad.
Mix this evenly, and enjoy!
Note: If you want to avoid seasoning to consume this raw, you can follow this as a replacement for seasoning
In a small bowl add 1 teaspoon olive oil
1 green chilli, finely chopped
Some chopped Cilantro.
1 teaspoon of aged raw balsamic vinegar  (optional)
Whisk them thoroughly
Mix the above dressing with the split mung beans, carrot and coconut salad.