Cucumber Gojju | Southekayi Gojju | Karnataka Recipes
Cucumber Gojju or Southekayi hasi gojju is very tasty and easy to make side dish for rotii, rotis and rice. This is Hasi means Raw, here we use all raw ingredients except the chillies, we just fry the green chillies for better taste, but you can add raw green chillies as well.
Cucumber is a low-calorie, high-water content, vitamin B rich vegetable. It is an excellent source of silica which helps for joint health and weight loss.
This is Vegan, and Gluten free dish. For Gluten free option use this gluten free hing
Try these other cucumber recipes as well.
 Cucumber salad,
Cucumber hasi majjige huLi
cucumber dosa,
Cucumber chaat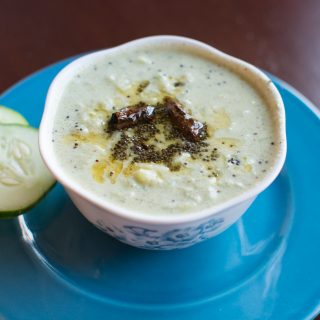 Cucumber Gojju | Southekayi Gojju
Please watch the video for the detailed instruction for making the Cucumber Gjju
Ingredients
1

medium size cucumber or

1 to 1.5

cup

finely chopped cucumber
To Grind:
¾

cup

grated coconut

1 to 4

green chillies

cut or slit it

¼ to ½

tsp

Jaggery

¼

tsp

mustard seeds

in

little tamarind soakedwater

½

tsp

salt

little coriander leaves

1

tbsp

hurigadale/frieddal gram or you can skip this and add more coconut

around ½

cup

water(depends on the consistency of the gojju
For seasoning:
2 to 3

tsp

oil

pinch

of hing

1/4

tsp

mustard seeds
Instructions
Heat a tsp of oil in a ladle on medium heat, once hot add the green chillies, when the chillies turn white turn off the heat

Grind grated coconut, the chillies, mustard seeds, coriander leaves,salt, jaggery, hurigadale, tamarind along with soaked water and required amount of water to a fine paste,

Take chopped cucumber in a bowl, add the masala, mix it well. add water if needed to get the gojju consistency.(i have used little more than 1/2 cup water to get the consistency of gojju)

Now for seasoning:

heat 2 tsp oil in a ladle, once hot add hing, then the mustard seeds, once the mustard seeds pops turn off the heat and add the seasoning to the gojju.

add the seasoning to the gojju. and now the raw cucumber gojju is ready to eat with rice, rotti, rotis...