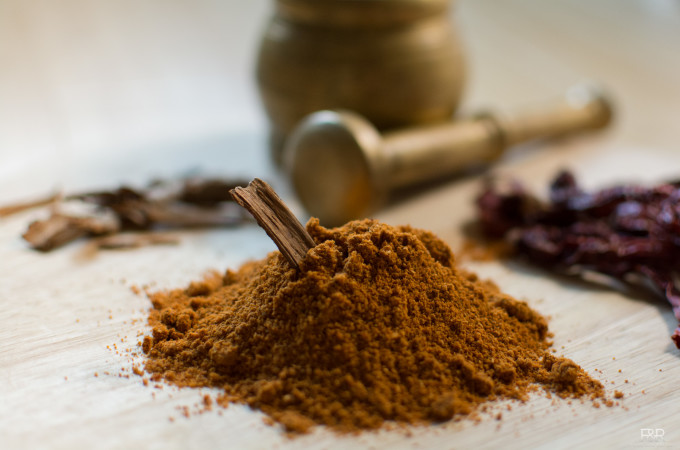 Authentic Vangibath Powder
Received this great recipe from my Mother, who makes excellent Rasam, Sambhar and Vangibath powder . Vangi meaning brinjal /eggplant, in kannada badanekAyi . Preparing masala rice using this vangi is vangibath. The powder we prepare can be used to make varieties of rice dishes. 
Ingredients for Vangi bath powder:
2 tablespoon oil
1½ cups coriander seeds/dhania
½ cup channa dal
½ cup urad dal
8 to 10 inch cinnamon stick
5 to 6 cloves
25 red chillies (smooth skin variety which is gives hotness -also called guntur red chilli)
55 to 60 byadgi red chillies (wrinkled skin variety which gives good color) If byadgi chillies are not available, use around 50 of the other variety.
Method for making Vangibath powder:
Heat the oil in the pan on medium high heat.
Once the oil is hot, add channa dal and urad dal.
Fry it until it turns golden brown.
Now add cinnamon, cloves, and red chillies. Roast it until the chilies becomes warm.
Finally add coriander seeds,mix well. Fry for 10 to 15 seconds.
Turn off the heat and let it cool completely. Then grind it to a fine powder.
Vangibath powder is now ready. You can store it and use it to make varieties of rice dishes.
Please also checkout our authentic Rasam powder, Sambhar powder, and BisiBele Bath powder