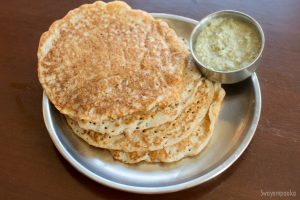 Breakfasts are the most important meal of the day. Start the day with good protein, carbs and fiber rich breakfasts. In south Indian kitchen dosa, Idli, rotti are most common breakfasts which are healthy and tasty as well.
In this recipe we are making set dosa using Oats. This is Gluten free and Vegan breakfast as well.
This Oats set dosa goes well with coconut chutney or dal chutney and vegetable saagu.
Please do check other delicious dosa recipes such as masala dosa, banana dosa, khaali dosa, set dosa and many more dosa recipes CLICK HERE.
And idli recipes such as tatte idli, masala idli ,pumpkin idli and Variety idli recipes CLICK HERE
For healthy breakfast recipes CLICK HERE
NOTE: Regarding the oats as gluten free grain is controversial . Pure oats are gluten free but it does get easily contaminate with other gluten products. So it is very important to buy CERTIFIED gluten free oats .
Like any other grains / food the decision to use the oats should be on individual basis because we don't know how your body reacts. you can read HERE about oats from the manufacturers website.
If you are allergic gluten please talk to your physician before you start this.
You can buy Bob's Red Mill gluten free steel cuts Oats BUY HERE
Quaker oats – gluten free – BUY HERE
Tools used Here:
Lodge – cast iron tava / skillet (buy here)
Stainless steel spatula Buy Here
Preeti Mixer (BUY HERE)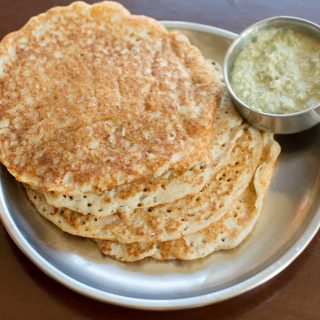 Oats Set dosa Recipe
Detailed video instructions for making oats dosa please the watch the video.
Ingredients
1/4

cup

urad dal /split black gram

2

tsp

methi seeds /fenugreek seeds

1

gram

tbsp split bengal/ kadle bele / chana dal

little more than 1

cup

oats

around 3

tbsp

thick poha / flattened rice / avalakki

¼to 1.5

cup

little more than 1oats

1

tsp

salt or salt to taste
Instructions
Take urad dal /split black gram,fenugreek seeds, and split bengal gram / chana dal in a bowl.

Wash and add 1 cup of water. Soak it for 3 to 4 hours.

In a separate bowl take oats and poha/avalakki. Wash and add around 1.5 to 1 ¾ cup of water and soak it for 3 to 4 hours overnight .

Transfer some water from the soaked dal, grind it to a fine paste. Add this water if needed to grind. Transfer it to a big bowl

Now in the same jar grind the oats to a fine paste. always transfer some water into a cup and then grind. add more water if needed to get the right consistency of the batter

Add this to the urad dal batter, mox it well. The consistency of the batter should be little thick ( like set dosa batter) compared to regular dosa batter,

Cover and keep it aside for 6 to 8 hours in a warm place to ferment.

To the fermented batter add 1.5 tsp or salt to taste, mix it well. Now the batter is ready to make Dosa.
To make dosa:
Grease the tava/ skillet and heat this on a medium heat

Once the tava is hot pour a tsp of oil in the center, spread it. then mix the batter once again, take a ladleful of batter. Pour it in the center, do not spread the batter.

Cover it and cook it for a minute so

Then flip the dose and put some oil on top, let it cook on the other side as well

Now oats dosa is ready. Remove the dosa from the tava

Before making the next dosa, put a tsp of oil again and follow the same procedure to make another dosa