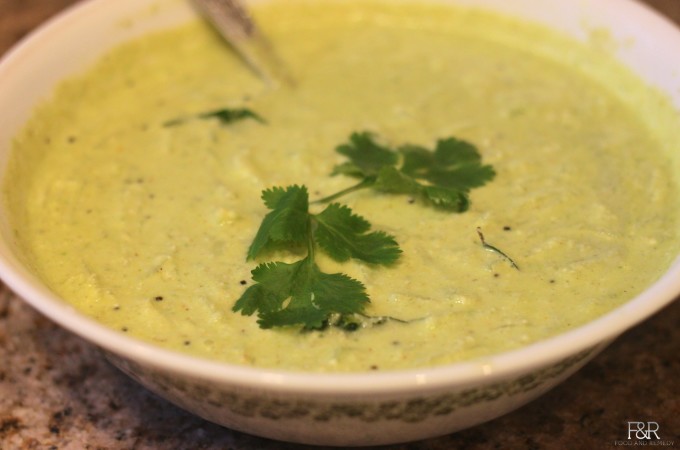 Cucumber is a low calorie, high water content, vitamin B rich vegetable. It is a excellent source of silica which helps for joint health and weight loss.
Ingredients:
1½ cup chopped cucumber
1 tsp salt
1/2 cup yogurt (curd)
For grinding:
⅓ cup Grated fresh coconut
¼ cup Fried gram
7-8 green chillies (for medium level spice )
small handful of cilantro
1 tsp sesame seeds
less than ¼ tsp of methi seeds
For seasoning:
1 tsp oil
½ tsp mustard seeds
¼ tsp hing (if it is a strong hing just use a pinch)
¼ tsp turmeric powder or Haldi
5-6 curry leaves
Method:
Heat the pan and dry roast the sesame seeds and the methi seeds.
Grind these roasted seeds, along with fried gram, grated coconut, green chillies, cilantro, and little bit of water, into a fine paste.
Add this to the chopped cucumber.
Seasoning:
Heat the oil in a ladle and once the oil is hot (test by adding few mustard seeds, it should pop immediately), add mustard seeds.
Then add hing, turmeric powder, and curry leaves.
Add this seasoning to the ground mixture and chopped cucumber.
Finally add salt and yogurt to this mixture and mix well.
Cucumber Hasi majjige huLi is ready. Serve this along with steaming rice or as a side dish for chapatis, rotti.