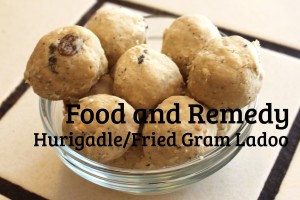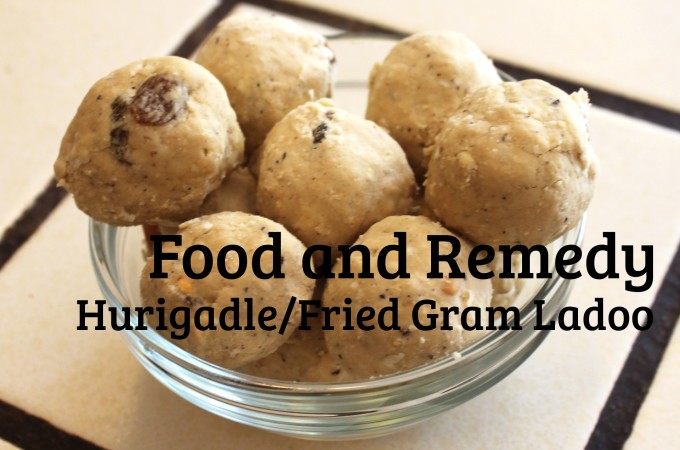 Hurigadale Unde/ Fried Gram Laddu
Fried gram laddu Ladoo is a 5 minute, easy to make sweet with readily available ingredients at home. During parayana days, my mother used to do this sweet, maybe because it takes less time to get it done :)
Ingredients:
1 cup hurigadale/ puttukadale/ puttani/ fried gram/ Roasted dalia split
½ cup sugar
¼ cup grated dried coconut
3 cardamom
1 tablespoon cashew pieces
1 tablespoon raisins
3 tablespoon ghee/ clarified butter
This recipe make 10 to 12 ladoos.
Method:
First, fine grind sugar and cardamom. Transfer this to a bowl.
Next, fine grind the hurigadale/puttukadale/puttani/fried gram/Roasted dalia split.
Add it to the powdered sugar. Add grated dried coconut, and mix well.
Heat the ghee in a ladle and add cashews pieces. Fry until the cashews turn golden brown.
Add raisins and turn off the heat.
Once the raisins are ready (they will plump up), add them to the prepared mix.
Mix all these ingredients very well. Your hand is the best tool for this job
Take the desired amount of this mix and shape it like a ball.
Tip: If it is hard to make the balls, you may want to add little more ghee (a teaspoon) to the mix.
Now the tasty Hurigadale unde/ Roasted Dalia ladoo is ready to eat.
Please try out these other Ladoo's
Sesame seeds (Ellu)  laddu / unde / Til ladoo
Antina Unde / Dried Fruits Laddu with Edible Gum