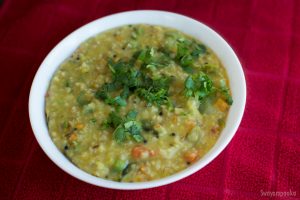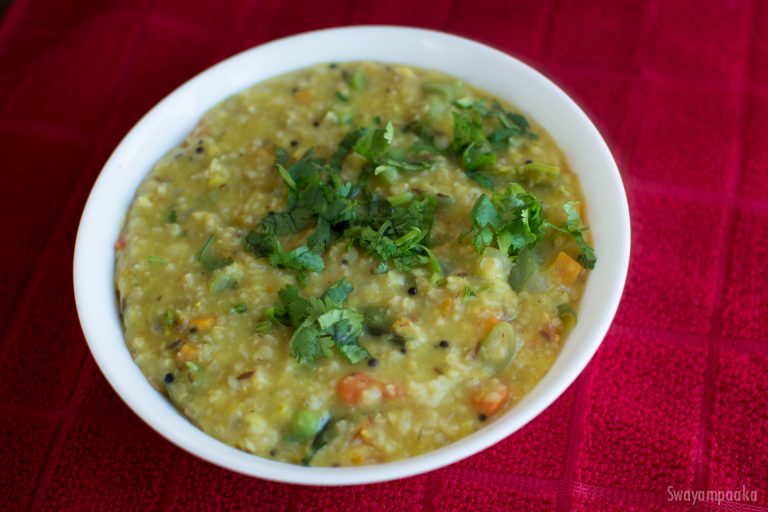 Oats Khichdi recipe | Vegetable Oats Pongal
Oats khichdi / Steel cut oats recipe | Oats Pongal with vegetables / oats pongal recipe
Pongal / khichdi is one of the healthiest foods. Perfect blend of carbohydrates. Proteins, and all important nutrients. Usually the pongal is prepared with rice and moong dal, in this recipe I prepared the dish with Steel Cut Oats and moong dal along with vegetables;es such as beans, carrots, peas, capsicum and onion. Healthy, quick and tasty breakfast or lunch or dinner for working mothers as well.
Try these steel cut oats recipes – Oats Rotti, Oats Upma, Oats Dosa recipe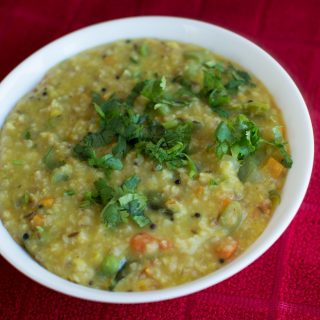 Oats Khichdi recipe | Vegetable Oats Pongal
Please watch the video for detailed instructions to make Vegetable oats khichdi
Ingredients
¾

cup

steel cut oats

3 to 3.5

cup

1.5 cup water for cooking the dal water and remaining for cooking the oats
Cooking Moong Dal:
1/2

cup

split green gram/ moong dal

½

tsp

oil

tsp

¼turmeric powder
For making the Pongal:
2

tbsp

oil or ghee

3/4

tsp

mustard seeds

1

tsp

jeera cumin seeds

1/4

tsp

pepper powder

4

green chillies

split or chopped

pinch

of hing

Few curry leaves

chopped coriander leaves

cup

¼fresh coconut

1

tsp

¼salt or salt to taste
Around ¼ to ½ cup of Finely chopped following vegetables-
Green beans

carrots

red or green capsicum

frozen or fresh peas each
Instructions
I am using this steel cut oats

Wash and pressure cook the dal with 1.5 cup water along with 1/2 tsp oil and 1/4 tsp turmeric powder on medium high heat.

Dry roast the oats on medium heat for a minute and transfer it to a plate

Keep the pan back on the stove and add oil. To the hot oil add mustard seeds, after it sputters add jeera, fry it for a few seconds. Then add green chillies, once it turns white add pepper powder, curry leaves, chopped onion and a little salt. Keep stirring while adding the ingredients

Fry it for 1/2 minute, add vegetables, stir it, cover it and cook this for a minute

Now add roasted oats

Add remaining water, and salt, mix it well cover it and let the vegetables and oats cook

After 5 minutes, to this cooked oats and vegetables add cooked dal, mix it well

and coconut, reduce the heat and cook it uncovered for a minute or 2

Finally add chopped coriander leaves and turn off the heat