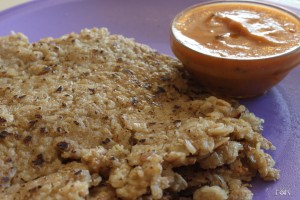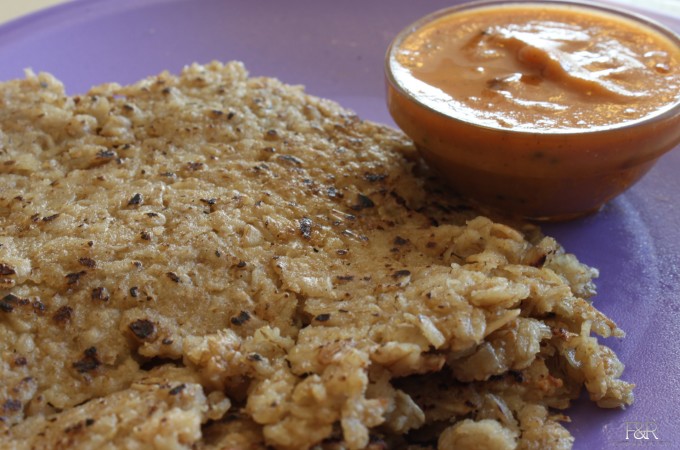 Oats are healthy and are on the lower side of glycemic index compared to rice flour. This fusion dish, Oats Rotti is a great way to use in our diet.
Ingredients for making Oats roti without wheat:
1½ cups of oats
1 cup water
¾ Teaspoon salt
2 tablespoon oil
10 by 10 inch square wax paper
This recipe makes 3 roti's.
We recommend iron skillet instead of the non-stick tava/skillet. One skillet that has served me well is,  Lodge Iron Skillet.
Method for Oats Roti recipe:
Boil the water on medium heat.
Once it starts boiling, add salt and oats and mix well .
Close the lid and reduce the heat to a very low temperature, and let it cook for 5 minutes.
After 5 minutes, turn off the stove and let it cool for a while, so we will be able to handle the oats dough.
Once the dough has cooled down, knead this dough for few seconds and make it into 3 tennis size balls.
Now, heat the skillet on medium high heat
While the skillet is getting heated, take a teaspoon of oil and grease the wax paper.
Place the oats ball in the center and press it into round flat roti's (or tortillas) around 6 inches, using your palm.
[highlight]Tip:Dip your hand in the water so that it will not stick to your hand while doing roti.[highlight]
Transfer the roti to your hand, and place it on the hot skillet.
Oil it and let it cook for 3 to 4 min on one side. Once it has turned a golden color, flip the roti and let the other side get golden brown as well.
Now our oats roti is ready.
Repeat the above procedure for other roti's.
Serve the Roti's hot, with chutney, sambar or chutney powder and Enjoy!
Oats can be part of a celiac's diet, but need to make sure to buy that does not have cross contamination by wheat, rye or barley. For oats for weight loss diet, need to use steel cut Oats. Here is an excellent link which provides details of glycemic index.