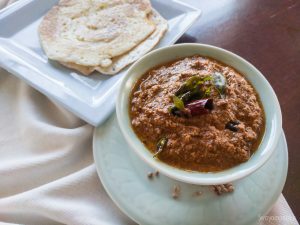 Horse gram chutney or huruli kaLu chutney is healthy, easy to make yet delicious side dish for rotti, chapathi, idli, and with steamed hot rice .
Other huruli/horse gram recipes are, rasam, bassaru,   Horse gram  chutney powder
Benefits :
Horse Gram is rich in minerals, especially iron, calcium and phosphorus. On the vitamin side, it is very rich B-Complex. Since it falls into the legume family, it is rich in both fiber and proteins. It is also contains polyphenols and antioxidants.Horse gram is very beneficial for patients with ulcer, diarrhea, hemorrhoids/Piles.Horse gram is a great diuretic. Horse gram is documented in Ayurveda to be beneficial to patients with respiratory issues, including Asthma and Bronchitis.Reduces Acidity and is excellent home remedy for rheumatic pain.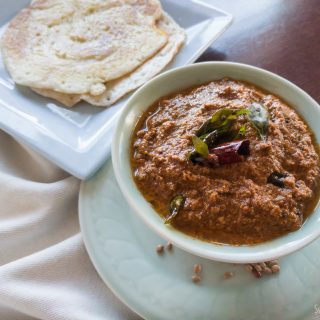 Horse gram Chutney
Ingredients
1/2

cup

huruli / horse gram

also we need:

5 to 6

byadgi red chillies or

more or less

you can use green chillies

1/2

cup

grated coconut

in

small keylime size tamarind soakedwater

little coriander leaves

1/2 to 1

tsp

Jaggery

1 to 1¼

cup

water

1

tsp

salt or salt to taste
For seasoning:
2

tsp

oil

1/2

tsp

mustard seeds

1

red chilli broken into pieces

10 to 15

curry leaves
Instructions
Clean the horse gram, Keep it ready

Heat a pan on medium low heat, dry roast the horse gram until it puffs up or you get the nice aroma. Don't let this turns black.

Turn off the heat and transfer it to a plate.

Heat ⅛ tsp of oil in ladle, add red chillies and fry it until the chillies becomes warm. turn off the heat

Now take the roasted horse gram, coconut, red chillies,coriander leaves, tamarind along with water(make sure there are no seeds) salt and jaggery in a mixer jar.

Add around ½ to ¾ cup of water, grind it to relatively coarse chutney.

Add water if needed, if you want to eat with rice this should be the consistency. Transfer the chutney to a bowl, add enough water to get the preferred consistency
Seasoning:
Heat the oil in ladle on medium heat, once hot add mustard seeds, after it pops add red chilli pieces and curry leaves, Turn off the heat and add this to the chutney

Serve this chutney with rice, rotti, dosa, chapathi , idli..