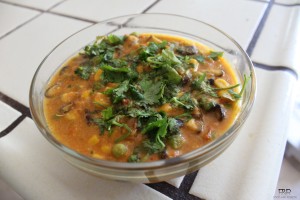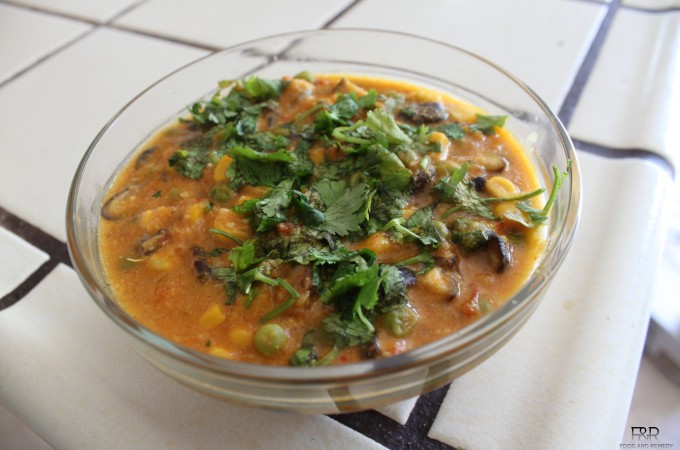 Wholesome Veggie Mushroom Curry
Mushrooms have long been recognized as a very good non-animal source of iron.
Shiitake mushrooms are very rich in polysaccharides which stimulate the immune system. They work as an anticoagulant and treat poor blood circulation, are extremely rich in vitamin D (D2 form) and it is one of the very few alternative sources for vitamin D for vegetarians. They are a good source of protein and 3 vitamin Bs.
Ingredients for Mushroom Curry / Veggie Mushroom Pasta Sauce:
2 cup cut shiitake mushrooms
1 cup chopped tomato
¾ cup onion
¾ cup corn
½ cup fresh / frozen green peas
2 green chillies
1 clove garlic
2 inch ginger
15 cashews
1 teaspoon rasam powder (optional and can be replaced with Italian seasoning for pasta sauce )
3 tablespoon oil
½ teaspoon ajwain / carom seeds (optional)
¼ teaspoon turmeric powder
1¼ teaspoon salt
2 cups water (we will use it when required )
serves 3 to 4
How to make Veggie Mushroom Gravy:
First, grind the cashews with ¼ cup water to a paste and set it aside.
Now coarse grind onion, garlic, chillies. Then add tomatoes and grind it. Keep this masala/paste aside.
Heat the pan on a medium high heat.
Add oil and let it heat for sometime.
Add ajwain / carom seeds and roast it until it releases a good aroma.
Then add masala (paste that is prepared above) and fry it until the raw smell of onion and garlic subsides and leaves the oil.
Now add turmeric powder.
Add some water and let it boil.
Now, add peas and corn and leave it for some more time.
Depending on the consistency add more water.
After a minute add Rasam powder if you like. It is optional, but it enhances the taste and flavor. if preparing as pasta sauce, replace Rasam powder with Italian seasoning
Finally, add mushrooms and mix it well (do not overcook the mushroom).
Cover the pan, reduce the heat, and cook it for 2 minutes.
Now add cashew paste, mix well and cook it for a minute more.
Turn off the heat and garnish with chopped coriander leaves / cilantro.
Now our nutritious wholesome mushroom curry (pasta sauce) is ready to served.