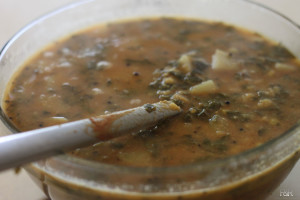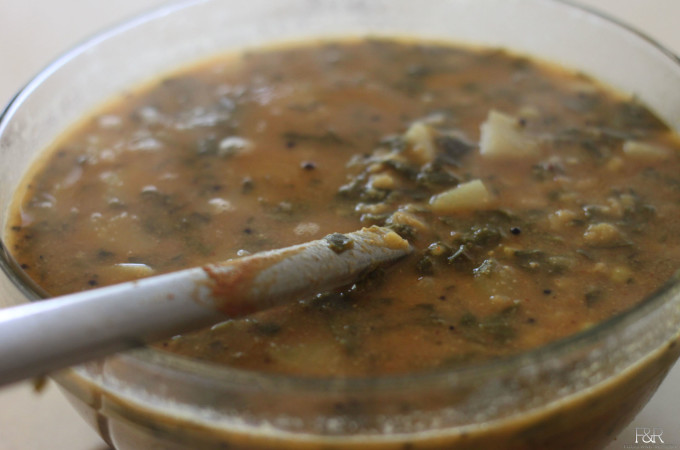 Kohlrabi (Navilkosu) and Lilva (AvarekaaLu) Sambar
Kohlrabi is an excellent source of vitamin C and green leaves are rich in Vitamin A and copper. It improves the oxygen circulation in blood. It is a energy food. Also this help the body to absorb iron.
Here is a simple recipe to make the sambar.
Ingredients:
½ cup toor dal
1 Bunch kohlrabi/gedde kosu/Navilkosu along with skin
⅛ tsp turmeric powder
½ cup avare kaLu (surti papdi lilva)
For grinding:
1½ TBSP Rasam Powder
½ cup coconut
small lemon size tamarind (soaked in water)
2 tsp salt (salt to taste)
5 to 6 cups of water
For seasoning:
1 tbsp oil
1 tsp mustard seeds
pinch of hing/asafoetida
Method:
Wash and peel the skin of kohlrabi. Cut it into cubes and cut the greens as well.
Wash and cook the dal along with lilva(avare kaaLu) in the pressure cooker with 2 cups of water and pinch of turmeric. Let it whistle 2 to 3 times on MEDIUM HIGH heat, and let it cool.
Cook the cut vegetables in a different vessel.
Meanwhile, grind coconut, rasam powder, tamarind and salt in the mixer to a fine paste.
Once the vegetables are cooked add the paste and let it boil for 10 minutes on medium low heat.
Now add the cooked dal and let it boil for 8 to 10 more minutes.
Turn off the heat and prepare the seasoning.
Seasoning:
Heat the oil in a ladle on medium high heat.
Once the oil is hot, add hing and mustard seeds.
Add this seasoning to sambar and it is ready to serve.
This sambar is good with raagi mudde and rice.