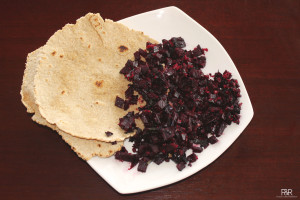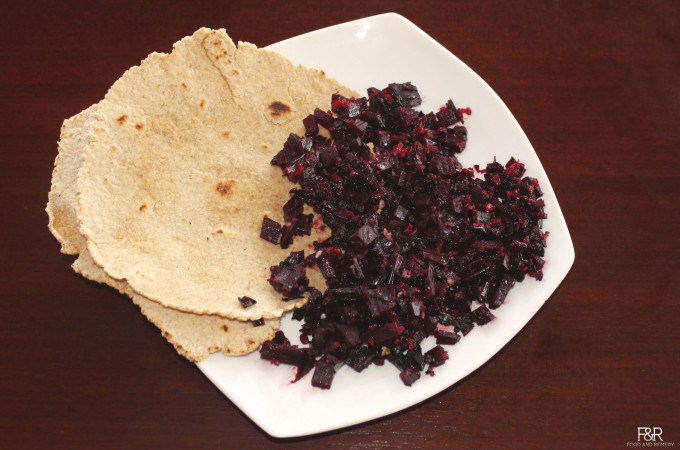 Beetroot Curry with Nutritious Beet Greens
Beets Curry is a very easy and delicious way of incorporating beets and the beet greens.  Beet Greens have more nutritional value than the beets, especially Vitamin K and Iron. My local farmers market is my favorite place to shop for beets with greens. Checkout your farmers market for organic beets with greens. When you shop for beets next time, make sure you get the beet greens along with the beetroot.
Nutrition and Health Benefits of Beets and Beet Greens
Beets are rich in Potassium, Manganese, Iron and copper. It also contains lot of nitrates. Beets also contain Vitamin C and Vitamin B6. Here are the major health benefits of Beets
Beets help's to detoxify or cleanse the body
Beets contains boron, which is very well known for its aphrodisiac properties.
Beets contain good amount of nitrates, which helps in dilating the blood vessels,
When consumed as beets juice, helps in reduction of blood pressure,
Beet Greens also contains rich amount of Vitamins and health benefits. Here is a brief list of nutrition and health benefits of Beet Greens.
Beet Greens have more iron than spinach
Rich in Vitamin K. Along with Calcium, Vitamin K will help promote strength of our bones.
Pregnant women can get good relief for morning sickness.
It is also rich in Vitamin A, a much needed nutrient for good vision.
Beet Greens help with blood clotting factors.
It is extremely good source of fiber.
Provides a good amount of phosphorus, zinc and magnesium.
Plays a major role in fending of Alzheimer's disease.
Note: Beet Greens have comparatively higher level of oxalates. If you are prone to Kidney stones, avoid greens and vegetables that have high oxalates. Here are good articles about Beets that are worth reading
Ingredients for Beets curry:
1 bunch organic beets along with greens (3 small beetroot)
1 tablespoon oil
½ teaspoon mustard seeds
1 TBSP urad dal
2 green chillies (cut in the middle)
3 TBSP fresh/frozen coconut
½ cup water
½ to ¾ tsp salt
Some curry leaves
Serves 2 to 3.
How to make Beet Greens Curry:
Wash and chop the beets and greens – use the red stem as well.
Heat the oil in a pan on medium heat.
Once the oil is hot enough, add mustard seeds. Let it pop.
Now add urad dal and fry it until they turn golden brown.
Add green chillies.
Then add chopped greens and beets along with salt, curry leaves, and water.
Mix well, cover it with a lid, and let it cook until the beets become tender and the water evaporates.
It will take around 10 minutes on medium heat.
Finally, add coconut, mix well, and turn off the heat.