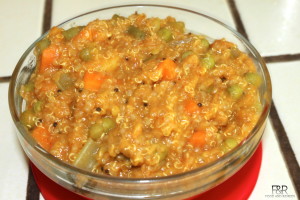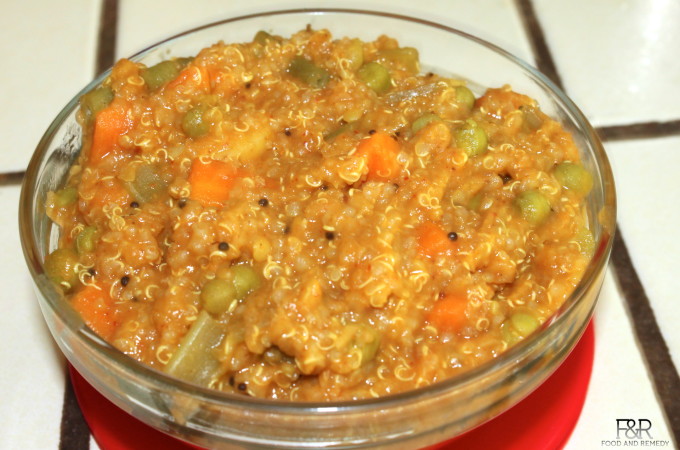 Quinoa is in rich fiber and iron, also it has perfect balance of all nine amino acids which is rarely found in plant based foods. Red lentils are high in iron and protein.
Here is the simple, wholesome recipe loaded with veggies and proteins.
Health benefits of Quinoa:
Quinoa is rich in niacin, thiamin, vitamin B6, potassium, and also riboflavin. Has Major minerals like magnesium, copper, zinc, and folate. It is gluten free and it is on the lower side of the glycemic index. It contains all of nine amino acids. Quinoa has high content of calcium compared to other grains. Due to higher content of Lysine, it helps in tissue and muscle repair. Lysine also helps in absorption of calcium. Please refer the following for more details
Ingredients:
½ cup quinoa
½ cup red lentils/moong dals
10 to 15 grean beans( ½ cup cut beans)
around ½ cup fresh peas
2 medium size carrots (½ cup cut carrots)
1 medium size potatoes cut into pieces
1 stalk of celery( ¼ cup cut celery) or 1 onion chopped – This is nice to have. It overpower's the strong flavor of Quinoa, and gives added crunchiness.
2½ to 3 TBSP Bisibele Bath powder
10 to 15 curry leaves
2½ tsp salt or salt to taste
generous amount of turmeric
little bit of jaggery
key lime sized tamarind soaked in water
For seasoning:
Pinch of Hing and asafoetida
1½ TBSP oil /ghee
1 tsp mustard seeds
5 to 6 cups of water
Method:
First, boil 3 to 4 cups of water on medium heat.
Wash red lentils and quinoa, add this along with turmeric powder, curry leaves and little bit of oil.
Mix and let it cook for 5 minutes.
AFter 5 to 6 minutes add all the vegetables and mix. Let it cook for another 15 minutes on medium low heat.( add more water if needed).
After 15 minutes, add bisi bele bath powder, jaggery, squeeze the tamarind juice and salt.
Mix well and let it cook for another 10 minutes.
Now turn off the heat and prepare seasoning.
Seasoning:
Heat the oil in a ladle.
Add hing and mustard seeds.Let it pop.
Put this on the bisibele bath and mix well.
Quinoa Bisi Bele Bath is ready to serve.
Enjoy this with raiytha.