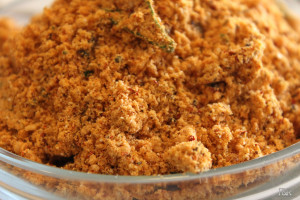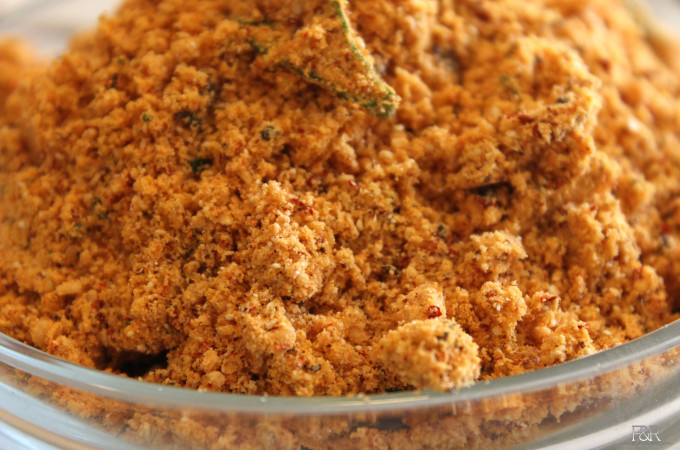 Fried Gram Chutney Powder
Fried gram/hurigadale chutney powder is very simple, easy to make chutney powder.
Ingredients:
1 cup fried gram or hurigadale
½ cup dried coconut (shredded)
1½ teaspoons salt
small marble size tamarind
1 teaspoon jaggery(shredde) or small marble size
10 to 12 byadgi chillis
For seasoning:
2 tablespoons oil
1 teaspoon mustard seeds
¾ teaspoon asafoetida
½ teaspoon turmeric powder
10 -15 curry leaves
Method:
Keep the pan on medium high heat.
Add ½ teaspoon of oil, and once it is hot, put the red chillies and tamarind.
Fry it for a few seconds and turn off the heat.
Let it cool for some time. We are doing this to make the chillies a little crunchy, so it will be easy to make powder.
Now add the roasted chillies and tamarind to the mixer, and pulse it for a few seconds.
Now add fried gram, dried coconut, salt, jaggery, and grind it until it reaches the right consistency – a not too fine powder.
Now heat the remaining oil in a pan on medium high heat. Once the oil is hot enough (check by putting little mustard seeds to the oil, it has to pop immediately) add the mustard seeds, asafoetida, turmeric and curry leaves.
Turn off the heat. Put this seasoning to the powder and mix it well. Now it is ready to use. You can store it in a container for a month.
You can enjoy this fried gram chutney powder with roti, chapati, dosa, rotti, or with hot steamed rice along with olive oil.
Enjoy!