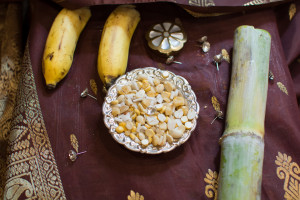 Ellu Bella Recipe | Sankranti Mix Recipe
Ellu (sesame seeds) bella(jaggery) along with other ingredients is a perfectly balanced mix for the month of January. It has protein, calcium, oil and iron from the ingredients, which are required for our body to rejuvenate from the winter weather. As we all know in every part of our country Sankranthi festival is celebrated, though each state has its own name for this festival, basically celebrating the harvest. At this time of the year, weather will be cold and dry, the main ingredients we use to prepare the dish for this festival is til/sesame seeds and jaggery along with nuts and coconut, which makes it an absolute health snack for the winter
Have a Happy Shankranthi!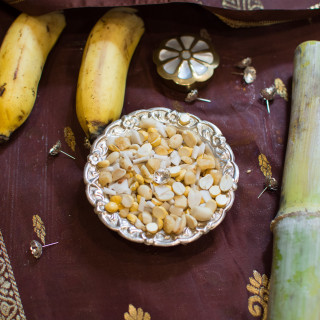 Ellu Bella Sankranti Mix
Here is how Kannadigas prepare the Mix. Here is the step by strp instructions to How to do the Ellu Bella Mix.
Ingredients
1

measure

dried coconut

cut into small pieces

1 to 1.5

measure

Jaggery

cut into small pieces

1

measure

hurigadale/fried gram dal/pottu kadalai

1

measure

roasted peanuts

3/4

measure

toasted sesame seeds
Instructions
Mix all the ingredients in the ratio of 1 dried coconut: 1 jaggery: 1 Hurigadale: 1 peanuts : ¾ sesame seeds.
How to cut Jaggery and Dried Coconut:
To cut dried coconut use slicer as shown and to remove the skin use the grater.

Grate the brown skin of the coconut like this.

Slice it using slicer as shown.

Stack these pieces together ( as much as you can hold comfortably) and cut into small pieces using a knife.

Like this,

To cut jaggery, I used areca nut cracker(adike kattari) or you can use nut cracker instead of knife. If it is big jaggery piece, first break into relatively small blocks and then use the nut cracker to cut into desired small pieces.

Like this.

Then heat a thick bottom pan/wok. Dry roast the sesame seeds and transfer it to a bowl.

In the same pan, dry roast the peanuts, allow it to cool,

To remove the skin, pour it onto a towel..

Gently rub the peanuts like this , it will helps to remove the skin and splits into halves.Separate the skin and peanuts and keep it ready

Final step, mix all the prepared ingredients in a big bowl and offer to god and Enjoy the perfect winter time health trail mix.
Notes
TIP: If you sun dry the cut jaggery and cut coconut it will add more taste to the mix.
You can also warm the jaggery in oven(just warm otherwise it will melt) to get the crunchy pieces, same with coconut too.
Also check out, Sakkare Achchu (Sugar Mould dolls), which is paired with Ellu Bella during the traditional Sankranthi Festival.