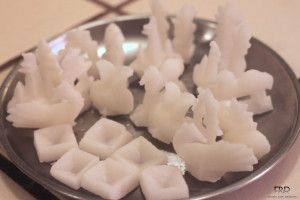 Wishing you all Happy Sankranthi. Sakkare Achchu (Sugar Mould dolls) are the traditional Sankranthi Recipe. This is a specialty of Karnataka. Sankranti is not complete with out making these beautiful sugar dolls/sakkare achchu.
For sankranthi mix recipe CLICK HERE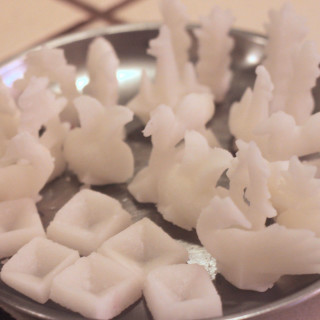 Sakkare Achchu
Here i s the recipe of sakkare achchu /sugar dolls with step by step instructions:
Ingredients
1

cup

sugar

1/4

cup

water

1/4

cup

milk

1/4

cup

yogurt

achchu (moulds)

soaked in water overnight
Instructions
Night before you prepare the sakkare achchu, soak the wooden mould in water.SKip this procedure if you are using silicone moulds.

Mix water and sugar and bring it to a boil.

Add milk.

Once it starts to boil, add curd/yogurt.

Let it boil for a minute.

Filter this syrup using a white clean cloth. Now the syrup is ready.

Dry the wooden moulds and keep them ready.

In a thick bottom pan, take a portion of the prepared syrup and boil it on a medium heat.

Initially the syrup will be like this, if you take a spoon full of the syrup the bubbles fade away almost immediately.

Once the syrup gets thicker (when you take the syrup in a spoon, bubbles should stay as bubbles), take it out from the stove and stir it continuously.

The syrup should become thick and have a whitish color.

If the syrup is not ready, keep it on the low flame mix it , remove it from the flame, stir it continuously until you get the right consistency.

Now pour it onto the moulds.

If the syrup becomes thick, add little water or the syrup and follow the above procedure.

Cool it for few seconds and gently take the achchu from the moulds using a tooth pick. Repeat the same procedure with the remaining syrup.
Notes
After you remove the achchu, put the moulds back into the water rinse it and dry it before you pour next set.
If the syrup becomes hard add little more syrup or water and melt it and pour it to the moulds.
If the achchu breaks while taking out from the moulds, put it  back into the syrup or pan melt it and repeat the same procedure.