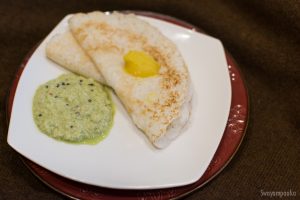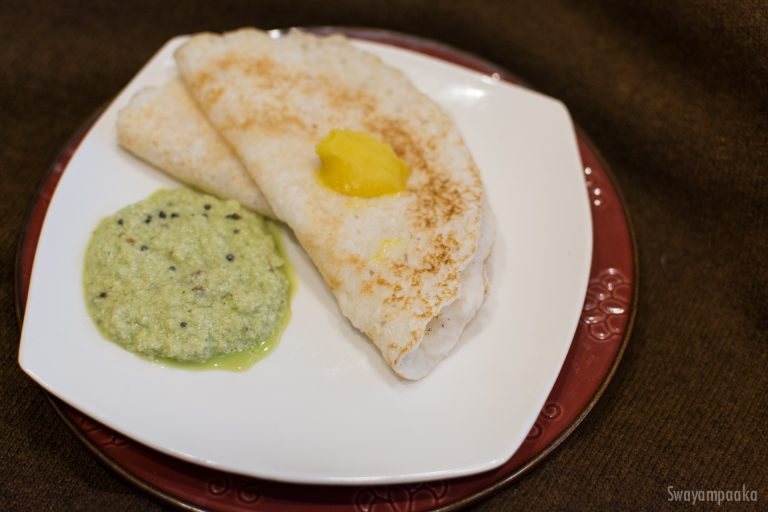 Coconut Dosa | Kayi Dosa| Vegan and Gluten free breakfast
Coconut Dosa or Kayi dose reminds me of my Grandma. Whenever we visit Anekere, a small village near Hasana, my ajji used make this flavorful coconut Dosa. My grandparents used to own coconut farm and she used to make with fresh tender coconut. This coconut Dosa goes well with coconut chutney. Try this Vegan, gluten free Coconut Dosa.
Try this other DOSAS recipes like Masala Dosa, cucumber dosa,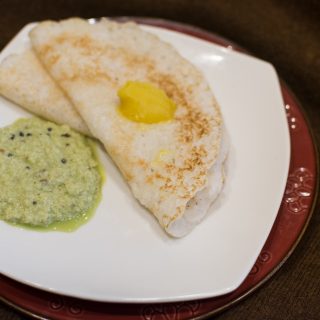 Coconut Dosa
Step by step instructions with detailed video recipe.
Ingredients
½

cup

rice

wash and soak in ¾water for 3 to 4 hours or overnight

3/4 to 1

cup

grated coconut

tender coconut is preferable

little less than 1/2

tsp

salt
Also we need:
Iron tava

Turner and

Oil to make dosa
Instructions
ransfer some water to a cup from the soaked rice and grind the rice to a fine paste as shown.

now add coconut and grind it. make sure not to grind this to fine texture. You have feel the coconut in the batter.

Transfer it to a big bowl, add some water to mixer and add that water as well, add salt mix it and keep it aside for 10 to 15 minutes

Grease and heat the tava on medium heat.

Once the tava is hot, take a ladleful of batter, pour it in the center of the tava and move the ladle in a circular motion to make a circle, The dosa has be little thick compared to the regular dosa.

Put some oil on and around the dose, cover it and cook it for a minute or so

Once the dosa is done , remove it from the tava

Repeat the same procedure with the remaining batter