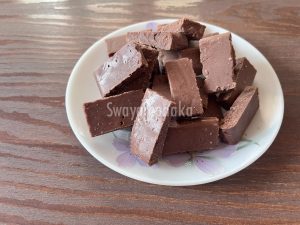 Happy yugaadi to all. Let this new year bring health, wealth and happiness to you and to your family.
Celebrate the new year with Vegan, and gluten free almond cocoa burfi/ almond chocolate burfi or badami chocolate barfi.
This is vegan and gluten free sweet.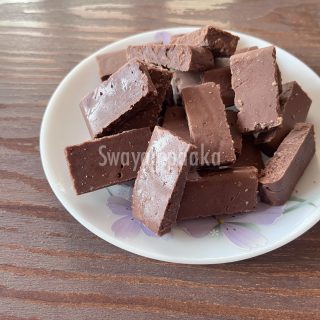 almond cocoa burfi
watch the video for right consistency and detailed instruction.
Ingredients
1

cup

almonds

1

cup

= 250ml

3/4

cup

sugar

3

tbsp

cocoa powder

1/2

coconut milk / almond milk or any non dairy or dairy milk

Grease the plate

and butter paper, and place the butter paper as shown
Instructions
Grind almonds and sugar to fine powder

Now add the coconut milk, pulse it to combine

Transfer the mix to a thick bottom pan. Keep this on medium low heat and keep stirring

Once it starts to thicken, add cocoa powder, keep mixing it.

If you like to add ghee, add it when the mix starts to leave the pan.

As it leaves the pan turn off the heat((please watch the video to know the right consistency)

pour it onto the greased plate.

pat it gently and let it cool

cut this into desired shape and size