Side Dish For Adai Dosa | Dosa Chutney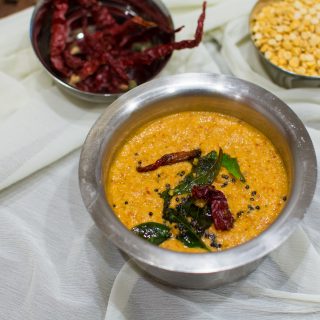 Side Dish For Adai Dosa | Dosa Chutney
Extremely popular, restaurant certified, sIde dish for Adai dosa with video instructions!
Coconut Chana dal Chutney is a very nice combination for Adai or lentil dosa.
Chutney, there are so many varieties, each one has its own flavor and taste. Each breakfast dish like Dosa, Idli has its own companion, these goes well with a particular type of chutney.
This red chutney or Bele/dal coconut chutney is very tasty, healthy and delicious side dish, goes well with almost every breakfast menu like chapathi, rava idli and dosa.V ery easy to make super delicious chutney.
Ingredients
2

tbsp

chana dal

3/4

cup

fresh/frozen coconut

1/4

tsp

oil

Small onion or

½

cup

chopped onion

6 to 8

byadagi red chillies

in

small keylime size tamarind soakedwater

Little jaggery

Little coriander leaves/cilantro

½ to 1

cup

water

3/4 to 1

tsp

salt
For seasoning:
1

tsp

oil

Pinch of hing/ asafoetida

¼

tsp

mustard seeds

Few curry leaves
Instructions
Heat 1/4 tsp oil in a pan on medium heat. Fry the chana dal until it turns golden brown. Then add red chillies Fry for few minutes.

Add onion, sprinkle salt. Then add curry leaves, cilantro, coconut and salt. Mix it.

Then turn off the heat and add all the ingredients.

Allow it to cool.

Once the chutney mix cools down completely, grind it to relatively coarse paste along with jaggery, and tamarind by adding water. Transfer it to a bowl. Then add the seasoning:
To prepare the seasoning:
Heat 1 tsp oil in a ladle. Once it is hot enough add mustard seeds. Once the mustard seeds pops, add broken chilli and turn off the heat

Pour this seasoning on the chutney. Mix it. Now serve this delicious, healthy lentil chutney with Rava Idli, dosa or you can eat this with hot rice
The nutrition data for one cup of coconut chutney (approximately 240 grams) can vary depending on the specific recipe and ingredients used. However, here's an approximate table of the nutritional content of one cup of coconut chutney made with common ingredients:
| Nutrient | Amount per 1 cup (240g) |
| --- | --- |
| Calories | 320 |
| Carbohydrates | 15 g |
| Fiber | 6 g |
| Protein | 4 g |
| Fat | 29 g |
| Sodium | 658 mg |
| Potassium | 264 mg |
| Calcium | 15 mg |
| Iron | 1.2 mg |
| Magnesium | 13 mg |
| Phosphorus | 56 mg |
Please note that the nutritional content can vary depending on the specific recipe and serving size, and this is just an approximation based on common ingredients used in coconut chutney.