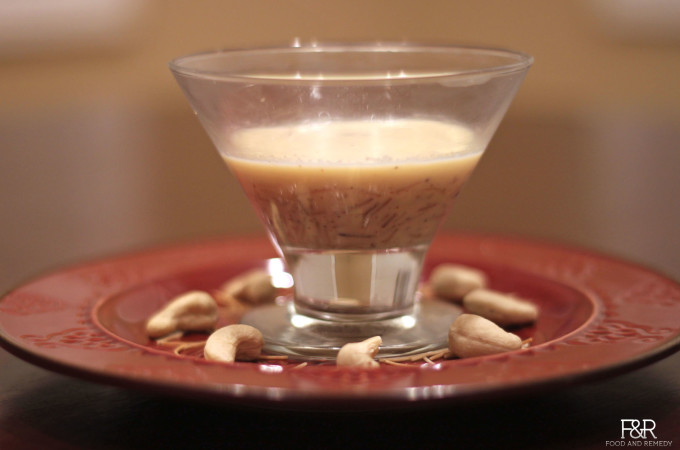 Shavige/sevai payasam is a simple yet tasty kheer. It is always a quick treat for unexpected guests and kids love it with ice cream.  Sevai payasam, in the southern part of India, is almost synonymous with auspicious days. It is kind of a tradition in our house where sevai payasam is a must if it is a festival. And if it is a birthday, Gulab Jamun is a must :)
This recipe makes around 1.5 cups of kheer.

Ingredients for Sevai Kheer recipe:
¼ cup sevai
4 Tablespoon sugar
1 tablespoon cashew pieces
1 tablespoon raisins
⅛ teaspoon cardamom powder
pinch of saffron soaked in milk
1 teaspoon ghee
2 cups of whole milk
Method for making Vermicelli Kheer:
Fry/roast the sevai, cashews and raisins separately with a little ghee.
Keep it aside.
Boil the milk on a low flame.
Once it starts boiling, add roasted sevai/shavige.
Let it boil on medium low heat for 15 minutes.
Stir it in between to prevent the payasam from sticking to the bottom of the pan.
After 15 minutes, add sugar and saffron. Let it boil on a low flame for 5 to 6 more minutes or until it consistency is reached ( sevai cooked well and blends with the milk)
Turn off the heat and add cardamom powder, fried cashews, and raisins. Mix well.
Serve hot or cold.
Our kids love the cold refrigerated Sevai payasam. Adding nutmeg or pistachio's gives it's own sweet and nutty aroma to the kheer.
Note: Sevai has the tendency to absorb the liquid, payasam becomes thick after it cools down. If that happens, boil some milk and add it to payasam