Eggless vegan chocolate cake recipe
chocolate cake using wheat flour and jaggery | atta cake with jaggery as sweetener!
This chocolate cake is made with wholewheat flour, jaggery and cocoa powder flavor. This is eggless, and vegan chocolate cake.
Indulge in the irresistible taste of a vegan chocolate cake made with nutrient-rich wheat flour and natural jaggery. This delightful treat features a rich cocoa flavor and a moist, tender crumb, demonstrating that plant-based desserts can be both decadent and wholesome. The wheat flour provides a satisfying texture, while the jaggery imparts a nuanced sweetness with delightful caramel undertones. Explore the joy of guilt-free indulgence with this vegan chocolate cake recipe, perfect for those seeking delicious and ethical dessert options on YouTube.
Kitchen tools we use in our cooking: https://amzn.to/3iz1Lma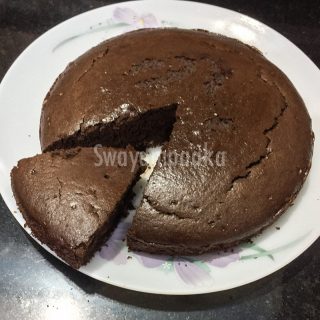 Eggless vegan chocolate cake recipe
watch the above CHOCOLATE CAKE video for detailed instructions!
Ingredients
1

cup

whole wheat flour

1/2

cup

jaggery

1/3

cup

unsweetened cocoa powder

3/4

tsp

baking powder

1/2

tsp

baking soda

1/8

tsp

salt

1/4

cup

coconut oil or any neutral flavored cooking oil

1

tsp

vanilla essence

1

tsp

juice of lime/lemon

3/4

cup

water or dairy milk or non dairy milk
Instructions
Take oil, vanilla extract, lemon juice , jaggery and water in a bowl

Whisk until jaggery is dissolved and all ingredients well combined

Sieve wheat flour, baking soda, beking powder, cocoa powder and salt to the wet ingredients.

whisk it until well combined

Grease the baking pan, then place the baking sheet

Pour the cake mix, gently pat the cake pan

Preheat the oven 180ºC or 355ºF

Place the cake pan, set the timer to 35 minutes

take the pan out and check the cake by inserting the toothpick. it should come clean

Cover it and let it cool

Then remove the cake from the pan as shown. remove the baking paper,

flip it and cut the cake, Serve