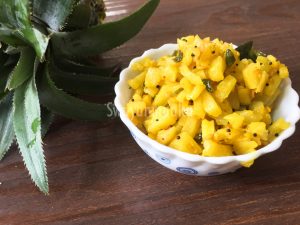 Sweet pineapples are easy to finish, but what about sour pineapples? It sits on the kitchen counter or in the refrigerator for many days not knowing what to do! If that is the case please try this easy pineapple palya using this sour pineapple.
And you may want to know the benefits of pineapple –
Pineapples are a naturally anti-inflammatory fruit. It is rich in vitamin C and has a good amount of vitamin A. Pineapples contain an enzyme called Bromelain, which helps in digesting food by breaking down the proteins. Studies show that regular consumption of this fruit helps in fighting arthritis and indigestion.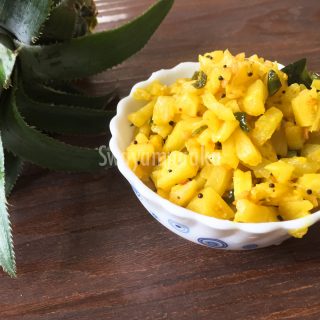 pineapple curry
Ingredients
1

pineapple

1

tsp

rock salt or salt to taste

1/2

tbsp

coconut oil or any cooking oil

1/2

tsp

mustard seeds

1

tsp

black gram / urad dal

pinch

of turmeric powder

~5

green chilies - chopped

few curry leaves
Instructions
Wash and cut the pineapple as shown in the video

Heat the oil in a pan on medium heat, once the oil is hot add mustard seeds

After it pops, add urad dal, fry it until the dals turn golden brown.

Then add green chilies, turmeric powder, curry leaves and salt, mix it well.

Cover it and cook it on low flame until the water has evaporated and cooked well. Make sure to stir in between.Turn of the heat!

Serve the pineapple palya with rotti, chapathi, dosa and also as a side dish with rice!