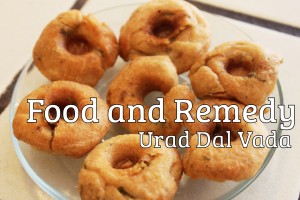 Urad Dal Vada and Thayir Vada
We will be making urad dal vada using the Mini Donut Maker and also the traditional deep frying method. We will also be making the thayir/mosaru vade.
Ingredients:
1 cup soaked Urad dal
1 tsp chopped ginger
1 tsp chopped coriander
¼ tsp pepper powder
¼ to 1/2 cup water
1¼ teaspoon salt
3-4 green chillies
1 tbsp rice flour
To prepare Yogurt vade/ yogurt donut / Mosaru vade
4 cups of yogurt
1 tsp of salt

For seasoning the yogurt:

1 tablespoon oil
½ tsp mustard seeds
4 to 5 Curry leaves
pinch Hing / Asafoetida
1 or 2 red dry chillies
Note: You can buy the mini donut maker used in this recipe here.
Method:
To make the vada batter:
Grind urad dal along with ginger, water and green chillies.
To this, add the salt, pepper powder, chopped coriander leaves (cilantro) and rice flour. Mix it well.
Now the vada batter is ready.
To make vada using donut maker:
Grease the nonstick donut maker with a little oil.
Place the batter in the donut maker and close the lid
After 10 min flip the vades.
After 10 more minutes, take them out using wooden spoon or spatula.
To make vada using traditional method:
Heat a generous amount of oil for frying.
Prepare tamarind water for your finger to dip in so that when you are taking the batter it won't stick to your fingers. It also helps to give a slight sour taste, crispness, and good color. If you do not have tamarind water, you can use water.
Take a small amount batter and make it into an round shape by patting it, then make a hole using your thumb and gently drop it into the oil.
Enjoy with Coffee or Tea (this is the perfect combination, and always have this combo at Janatha Hotel, Malleswaram, Bangalore, it is just awesome). In deep fried items category, French fries does not even come close to our Vada. Period.
To make yogurt vada:
Mix the yogurt well by adding salt.
Now prepare the seasoning.
Heat the oil in a ladle, add mustard seeds.
After it pops, add red dry chillies, curry leaves and pinch of hing.
Add this to the curd and mix everything together.
Now add the prepared vadas to this mixture and and let it soak for 20 minutes.
While serving, garnish with chopped cilantro and serve cold.
You can serve plain vada with coconut chutney.
ENJOY !