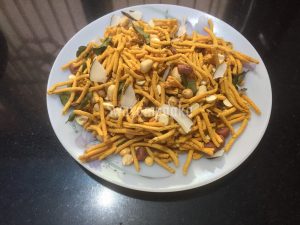 Air fryer Mixture recipe | Vegan Recipes
Air fryer mixture recipe | No oil Mixture recipe | Vegan and gluten free Mixture recipe
Air fryer recipes
Mixture is one of the popular snacks in India.. Every state has its own recipe for this, overall it is a crunchy, additive snack , We do have the traditional deep fried mixture recipe HERE in our website, but this is the mixture snack using air fryer and not with usual besan flour but we have used rice flour to make the Sev this recipe .
Any crunchy crispy snacks like Khara sev, chakli, mixture…are addictive and tasty as well.
Usually these are deep fried snacks. I am trying our deep fried snacks using the air fryer and I am liking it. To give you a fair review – no doubt deep fried snacks taste better, but air fried snacks are guilt free, tasty and with less or no oil.
Kitchen tools we use in our cooking: https://amzn.to/3iz1Lma
Tools :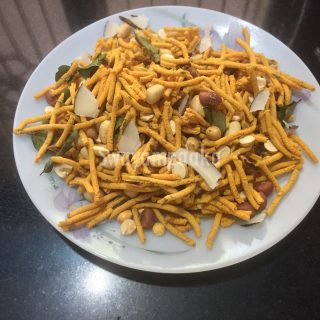 Air fryer Mixture recipe | Vegan Recipes
PLease watch the above video for detailed recipe
Ingredients
1

cup

rice flour

1

tsp

rock salt or salt to taste

1/2

tsp

jeera or cumin seeds

1/2

tsp

ajwain / omam

1

tsp

or more red chili powder

1/4

tsp

turmeric powder

1

tsp

sesame

2

tbsp

groundnut/peanuts

2

gram

tbsp hurigadale / fried

2

tbsp

sliced dried coconut

above ingredients - You can add more or less

Few curry leaves

1

cup

water

Chakli press with sev disc
Instructions
Boil the water in a pan on medium heat

To the boiling water add salt,omam, jeera,sesame seeds, turmeric powder,

rice flour , red chili powder, mix it. Add a pinch of hing .

Mix it, turn off the heat. and cover it and keep it aside for few minutes

Dry roast the peanuts in a pan on medium heat, transfer it onto a plate,

Dry roast the coconut slices until it turns golden yellow.transfer it onto a plate,

Dry the curry leaves on medium low heat.

Grease the chakli press and the sev disc as well

Once the rice mix becomes warm, knead it well until it forms the soft dough. kneading is important.

Place the dough in the press as shown

Press this in a circular motion directly into the air fryer pan as shown

Make sure not to overlap

Set the fryer to 180ºC

Set the fryer timer to 20 minutes

check after 10 minutes

After 10 minutes, bottom part will be cooked, flip the sev, and let it fry on the other side as well

After another 8 minutes, check one more time, break a piece and see, if it is not crisp keep this back again and fry for a few more minutes.

Break the sev,

add roasted peanuts, hurigadale, coconut and curry leaves, mix it,

Overall it takes around 18 minutes to make the sev.

Keep another 2 minutes, then the mixture is ready to serve
Notes
You can add a little oil, chili powder, and salt. Mix it and serv