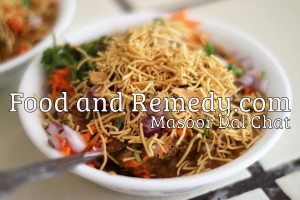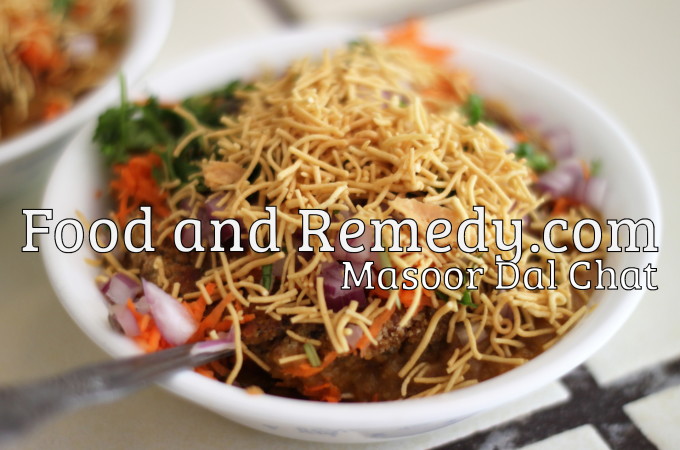 Masoor Dal chaat is very delicious and guilt free chat. Masoor dal helps to purify blood system and also increases red blood cells. Masoor dal is very good home remedy for piles and dysentery.

Ingredients:
½ cup masoor dal
1½ to 2 cups water
1 tsp oil
½ tsp cumin
1 cup chopped onion
½ tsp chilli powder
½ tsp salt
¼ tsp garam masala powder
¼ tsp dhania powder
pinch of turmeric
Note: This recipe requires pre-prepared patties. Recipe for the patties, please click here.
For garnishing the chaat
½ cup shredded carrots
½ cup chopped onions
¼ cup chopped cilantro
¼ cup green chutney( use it according to your preferences)
¼ cup sweet chutney ( use it according to your preferences)
½ cup sev
lemon juice (optional)
Method:
First cook the dal along with water in a pressure cooker or on stovetop
Place a pan on a stove and heat it then add oil, cumin seeds and onion
Fry the onion till it becomes tender or transparent, then add the cooked dal
Then add turmeric, chilli powder, garam masala powder, dhania powder, and salt.
Bring all the mixed ingredients to boil to get right consistency
Place a pan on a stove and lightly oil it and then place a frozen patties or freshly made patties.
Let it get golden brown on that side in a medium to low heat, once it turns to golden brown color turn it to another side to get the same color
To make chaat:
Now add dal to a chaat serving bowl and place a patty on top of it then add green chutney(spicy chaat chutney made with mint) and sweet chutney,( spicy and sweet chutney made with dates and tamarind) then sprinkle it with chopped onion,carrot and cilantro.
Finally garnish it with sev on top and serve hot/ cold.