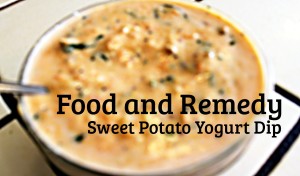 Sweet potato Nutrition Facts:
Sweet Potatoes are rich in fiber, beta-carotene (Vitamin A), and large amounts of Vitamin B6, along with many other important nutrients.
Major health benefits are derived from its high content Vitamin B6. Vitamin B6 helps in reducing homocysteine and thereby helps in reducing the risk of heart disease. This resource from Harvard provides great details about Vitamin B's.
Sweet potatoes can be eaten raw. Since these contain oxalates, people with a known history of kidney/gallbladder ailments/urinary tract stones may have to consult their doctor about the amount they can consume.
Please visit whfoods for more nutrition and health benefits of sweet potato.
How to make sweet potato yogurt dip recipe? Here it is. Quick and simple.
Ingredients for sweet potato yogurt recipe:
1 cup cooked sweet potatoes ( you can cook them in a pressure cooker or stove top with water or in microwave)
½ tsp salt
1½ cup plain yogurt or curd
For seasoning:
1½ teaspoon oil
½ teaspoon mustard seed
1 teaspoon channa dal
2 teaspoon urad dal
2- 3 green chillies ( slit it length wise)
1 tbs of chopped coriander or cilantro
4-5 curry leaves
Method to make spicy sweet potato dip:
Mash the cooked sweet potatoes along with its skin or scoop only the pulp.
Add curd and salt, mix it well.
For seasoning:
Heat the oil in a ladle on medium heat.
Add mustard seeds let it pop.
Then add channa dal and urad dal, fry it till it turns golden brown.
Add slit green chillies and curry leaves.
Finally add coriander leaves/cilantro.
Add this seasoning to sweet potato yogurt mixture and mix well and serve .
Sweet potato yogurt goes with many dishes like plain steamed rice, or chapatis, or dosa and upma. Tastes extremely good when used as dip for tortilla chips.