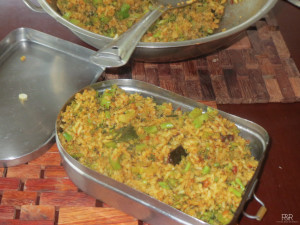 Broccoli Rice | Easy Lunch Box Recipes
id="recipe">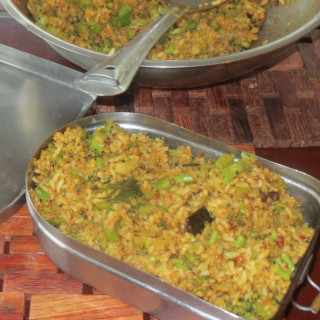 Broccoli Rice Recipe, How make Broccoli Rice recipe
Broccoli, as we all know one of the healthiest vegetable loaded with Vitamin K, Vitamin C, high fiber and has cancer fighting properties. Also good for bone health. And alkalizes the body. There are many ways we can incorporate this nutritious vegetable in our diet, steam it and add it to any salads, stir fry it. Just blanch it and eat it. My recipe here is pure south Indian style Rice dish using Vangi bath Powder.
Ingredients
2.5

cup

cut broccoli

2

cup

cooked rice

3

TBSP

oil

pinch of

hing

1

tsp

mustard seesd

1

tsp

urad dal

1

tsp

chana dal

1

red chilli broken into pieces

little

key lime size tamarind soaked in water

2 to 3

TBSP

vangi bath powder

1

tsp

Jaggery

few

curry leaves

1 1/4

tsp

salt or salt to taste
Instructions
Wash and cut broccoli into small pieces. Have 2 cups of cooked rice ready. spread it on the plate.

Heat the oil in a pan on medium heat. Once the oil is hot enough add mustard seeds, once mustard pops add hing, chanadal , and urad dal. Fry it until dals turns golden brown. Then add red chillies and curry leaves.

Add broccoli, salt and mix it well.

Let it cook for few minutes.

Once the broccoli becomes tender,

Add vangi bath powder, squeeze tamarind juice and jaggery. Mix it well.

Let it cook for few minutes.

Reduce the heat and add the cooked rice, again mix it and cover ti cook it for 2 to 3 minutes on low heat.

Turn off the heat and it is ready to enjoy. Ideal for lunch box.