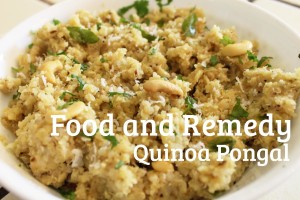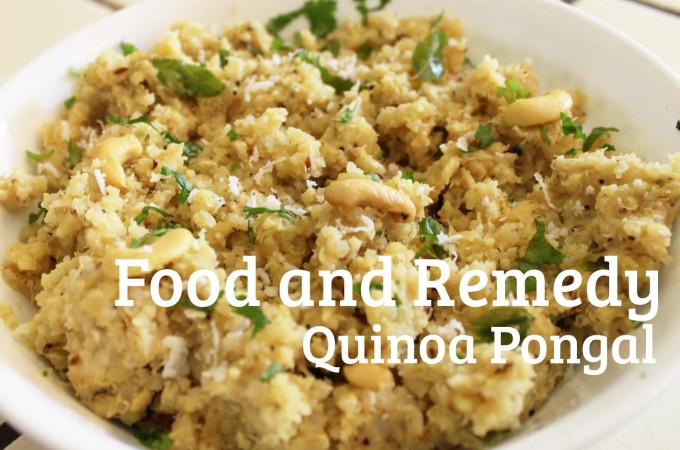 Quinoa Pongal / Spicy Quinoa Pudding
Quinoa is very rich in calcium, protein and being a complex carbohydrate makes this food a natural internal cleanser. This makes quinoa part of a good plant based calcium diet for vegans as well as those who are lactose intolerant.
This combination of quinoa and mung dal is packed with protein, calcium, fiber and other vital nutrients. This is low glycemic, alkaline food.
Ingredients:
½ cup Quinoa
½ cup moong dal
2½ cup water
1 tsp cumin
½ tsp coarsely ground pepper
1¾ tsp salt
2 tbs split cashews
4-5 slit green chillies
½ cup grated fresh coconut
2-3 tbs oil or ghee
5-6 curry leaves
Makes 3 to 4 serving.
Method:
First, mix moong dal and quinoa in a vessel and wash them.
Add water and cook them in a pressure cooker (One whistle is enough). You can also cook on the stove-top directly in a pan.
Turn off the heat and let cooker cool down.
Keep a pan on a stove to heat up. Add oil, and once it is heated, add cumin, pepper, cashews, green chillies and curry leaves in this same order. Fry until the cashews becomes golden brown color.
Now, add a cooked quinoa and moong dal mixture with salt and shredded coconut, mix everything well and turn off the heat.
Now the Pongal is ready. You can serve the hot Pongal with coconut chutney or plain yogurt or raita.