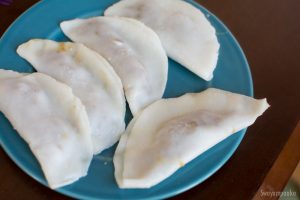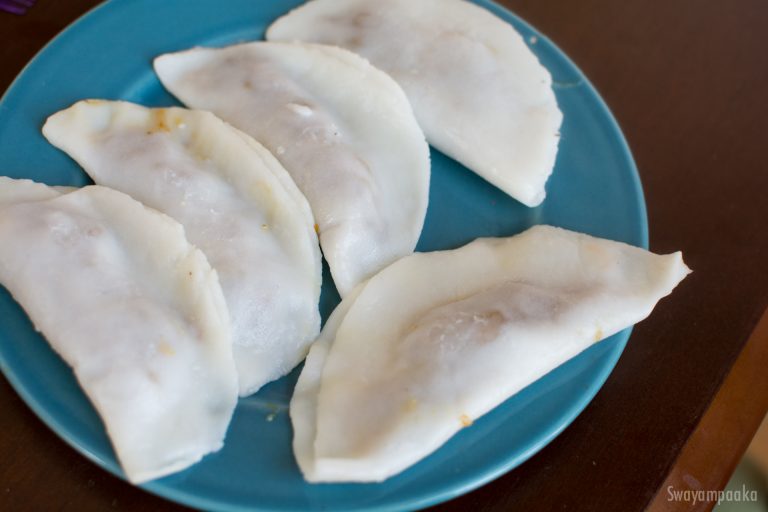 Sweet Kozhukattai | sweet Kadubu with carrot filling
Sweet Kozhukattai recipes | Kadubu recipe | Sweet kadubu | carrot jaggery filling kadubu | Avi kadubu
This steamed kadubu or avi kadubu is as the name says it is steamed sweet with outer shell made of rice and filling is sweet, we can make it with dals, traditional coconut and jaggery and with sesame seeds as well. Here in this recipe I have used grated carrot, coconut and jaggery as filling. Try this sweet and share your comments :)
TOOLS NEEDED:
Tortilla Press
Steamer
Pan
Grater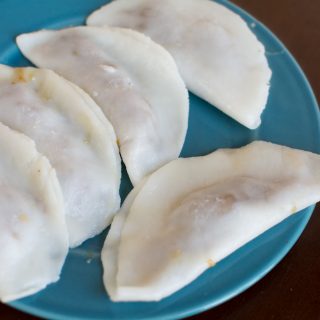 Sweet Kozhukattai | sweet Kadubu with carrot filling
Sweet kozhukattai | kolukattai recipe using carrot, jaggery, coconut filling instead of jaggery and coconut. Please watch the video for detailed instruction
Ingredients
For the dough:
1/2

cup

of rice

wash and soak in 1cup of water for 3 to 4 hours or overnight

1

tsp

oil

1/4

tsp

salt
For filling:
2

medium size carrots( wash

peel the skin and grate)

cups

Or Around 2of grated carrots

1/2 to 3/4

cup

jaggery

3

tbsp

to 4water

1/2

cup

fresh grated coconut

or frozen coconut

around 8

almonds and cashews

(crushed) and some raisins

3 to 4

cardamoms

powder it

or 1/4

tsp

cardamom powder

Tortilla / roti press or parchment paper / plastic sheets
Instructions
To prepare the hurNa / filling:
Take the jaggery in a pan along with the water and melt this on medium heat, once melted completely, strain the syrup to a cup

Heat 1 tsp of ghee or oil in a thick bottom pan, add grated carrot, stir it for 2 to 3 minutes on medium/medium low heat

Now add jaggery syrup, coconut, crushed nuts and raisins.. stir it until the mixture thickens.

You can add gasagase as well.

Once the mix becomes thick and for exact consistency please watch the video ( it may take around 4 minutes on medium heat)

Turn off the heat, add cardamom powder, mix it well, Let it cool
For making the Dough:
Transfer some water from soaked rice to a cup, grind it to a fine paste,

Transfer this to a thick bottom kadai, add oil, and salt, add the water, (consistency of the batter at this point should be like neer dosa batter. Add enough water to get the right consistency

Keep this on medium heat. keep stirring until this thin batter becomes a ball / lump . Then turn off the heat. It may take around 5 to 6 minutes. Cover it and let it cool.

Take the warm dough on greased plate, and knead it to a soft, smooth dough
To make the kadubu /kozhukattai
Grease the parchment paper or banana leaves and grease the plate in which we steam cook the kadubu

Take a small amount of the dough(around a golf ball size) , make a ball, flatten it and keep in the center of the press, cover it with another parchment paper and press.

Place 1 to 2 tbsp of the filling in the center,

fold the paper and seal it as shown

Arrange the prepared kadubu on the greased plate

If you don't have this press, you can make like this either by patting or you can use a rolling pin
To Steam the kadubu:
Keep the steamer / pressure cooker with enough water in it on medium high heat

. Then turn off the heat. and Serve hot or warm kadubu.

Place the prepared kadubu in a steamer, cover it and steam cook this for 7 to 8 minutes Repeat the same procedure with remaining dough and filling
Notes
If you are using a pressure cooker don't put the whistle on. Before keeping the next batch add water if needed to the steamer. and continue the same procedure. We can make around 10 kadubu with the given measurement.