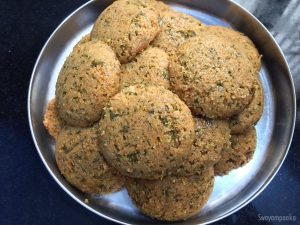 Methi Leaves Idli Recipe |fenugreek leaves Idli
methi leaves, no dal idli, rice rava, vegan breakfast, spicy
methi leaves Idli Recipe |Fenugreek seeds Idli | Vegan idli recipe | Gluten free Idli recipe | Idli recipe without urad dal |masala idli recipe with detailed video instructions.
Idli is one of the favorite breakfasts in India. There are varieties of idli recipes, This methi leaves masala idli is one of them . This is gluten free and vegan breakfast as well.
This Methi leaves idli is sour and spicy with a touch of sweet. Tasty and healthy breakfast or meal . Try this healthy idli, serve with coconut chutney. or chutney of your choice
Methi leaves / fenugreek leaves are rich in iron, Vitamin K and C. They help to prevent anemia. Helps in digestion, controlling glucose, reduces cholesterol, and is good for hair loss.
Try these methi leaves recipes such as – Methi leaves Dosa , Methi leaves wheat rotti, Methi leaves and Potato rice, also checkout these other vegan recipes, gluten free recipes as well
Tools needed: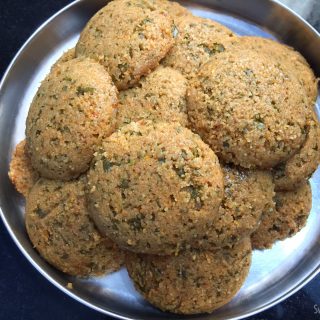 Methi Leaves Idli Recipe |fenugreek leaves Idli
Methi leaves Idli recipe - masala idli recipe with detailed video instructions. Please watch the video for the consistency of the batter as well.
Ingredients
Handful of

leaves

methi leaves / fenugreek leaves (clean

wash and keep it ready)

1

cup

idli rave /rice rava /cream of rice

small keylime size

tamarind

wash and soak it in water

2

tbsp

jaggery

1.5

tsp

salt or salt to taste

2

tsp

red chilli powder

1

tsp

jeera powder / cumin powder

2

tsp

coriander powder/dhania powder

1

cup

water
Instructions
Finely chop the methi leaves

Take the chopped greens in a big pan, add rava, tamarind extract, and all the ingredients except water . mix it well

Add enough water and mix it. Until now I have used 1.5 cups of water. Cover it and keep it aside for at least 30 minutes

After an hour or so - mix the idli batter, add more water if needed to get the consistency as shown here in the video
To make the idlis:
Keep the steamer / pressure cooker with water on medium high heat

Grease the idli plates .

Put the idli batter to the greased idli plates,

steam cook the idlis for 20 minutes. If you are using a pressure cooker don't put the weight on.

After 20 minutes reduce the heat to low, carefully open the lid and check the idlis.

Wet your finger in cold water, touch the idlis, if the idlis are not sticky turn off the heat. else keep it for some more time

Leave it for a minute and then remove the idlis from the plate using a spoon.

Serve with Chutney or it can be eaten without any side dish as well.

With the given measurement we can make around 20 idlis.
Notes
make sure to mix the batter everytime you take the batter.