Til Ladoo | Sesame seeds laddu
Sesame seeds ladoo or til ladoo is vegan, gluten free, and healthy sweet which can be prepared under 20 minutes. Both sesame seeds and good jaggery are healthy, this laddus are nutritious and best as a winter snack to kids .
Sesame seeds are very beneficial to health. Sesame seeds are a very good source of calcium and Zinc which promotes good bone health. Helps in lowering cholesterol, iron rich and promotes heart health too.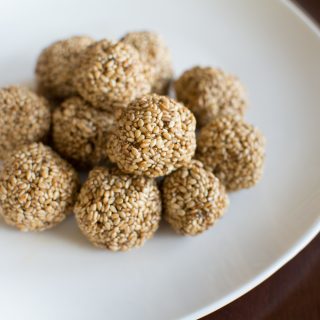 Til Ladoo | Sesame seeds laddu
watch the video for detailed instructions to make sesame seeds laddu / til ladoo
Ingredients
1/2

cup

sesame seeds

5

tbsp

jaggery or 3/4 the quantity of sesame seeds

1 to 2

tbsp

water

cardamom powder

optional
Instructions
Heat the pan on medium low heat.

Dry roast the sesame seeds on medium low heat until it sputters and you will get the nice aroma of roasted sesame seeds.

Turn off the heat and transfer the roasted sesame to a plate and let it cool

Once the sesame seeds are cooled, melt the jaggery in a pan along with a tbsp of water on medium low heat

Once the jaggery is melted completely, if jaggery has any impurities this is the time to filter it using a clean cloth. Else continue on medium low heat until you get the thread consistency or if you add a few drops of syrup into the water you should be able to make a soft ball as shown in the video.

Consistency of the syrup is the key to the best unde.

Once you get the perfect syrup consistency, turn off the heat and add roasted sesame seeds, mix it well and transfer it onto a greased plate

Mix is still warm, wet your hand, take the desired amount of the mix and make the ball.