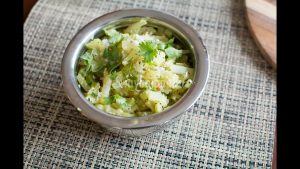 Green Papaya stir fry | Papaya Palya
SImple yet delicious and healthy Palya recipe – Green papaya palya | raw papaya palya | pappaya palya | parangikai palya | Green papaya palya
For kannada recipe link – https://swayampaaka.com/recipes/side-dishes/palya/papaya-palya-recipe-parangikai-palya/

Green papaya is extremely nutritious and has lots of health benefits.
!Benefits of papaya :
Low calorie vegetable – Helps in weight loss
Good for breastfeeding mothers increases milk production)
immunity booster
Good for diabetic people
Reduces menstrual cramps
Rich in vitamin C and E Which helps in reducing wrinkles
Good for digestion And many more
Also crush or powder tsome 10 to 15 seeds and boil with 2 cups of water and drink everyday for a week. This is good for the liver and get rid of worms
Try the simple palya recipe using green papaya.
You can also use this papaya to make sambar , Idli, gojju, halwa…
Tools I use in my kitchen – https://amzn.to/3iz1Lma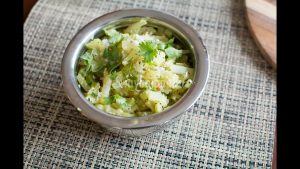 Green Papaya stir fry | Papaya Palya
Please watch the above video for detailed recipe
Ingredients
in

small papaya or 1/2 papaya as shownthe video OR

2.5

cups

to 3of chopped papaya

Remaining papaya you can make idli

huLi/sambar/kootu..

3

tsp

cooking oil

1/2

tsp

mustard seeds

1

tsp

kadle bele / chana dal/bengal gram

1

tsp

urad dal/uddina bele/black gram

3

to 4 green chillies

chopped

Few curry leaves

3/4

tsp

salt or salt to taste

Little turmeric powder

2 to 3

tbsp

finely chopped coriander leaves

1/4

cup

fresh /frozen grated coconut

juice of half lime

optional

around 1/2

cup

water

depends on the papaya
Instructions
Peel the skin and scoop the seeds,

then chop the papaya ( you can use mandolin slicer as shown here)

heat the oil in a thick bottom pan on medium heat

Once the oil is hot add mustard seeds, after it pops add dals,

Fry it until the dals turn golden brown.

Then add chopped green chilies, fry it for few seconds,

add curry leaves and turmeric powder, mix it

Now add chopped papaya, and salt . Mix it well.

add 1/4 cup of water, mix it, cover it and let it cook . Make sure to mix/stir in between.

If needed - add another 3 to 4 tbsp of water , mix it , cover it and cook

Once this papayas cooked and water is evaporated

Add coconut and chopped coriander leaves, mix it and turn off the heat

You can add lemon juice now.

Palya/ stir fry is ready to serve!
Notes
You can use this mandolin slicer to chop