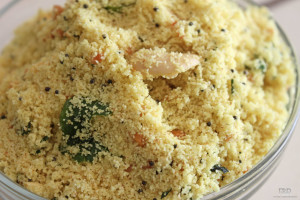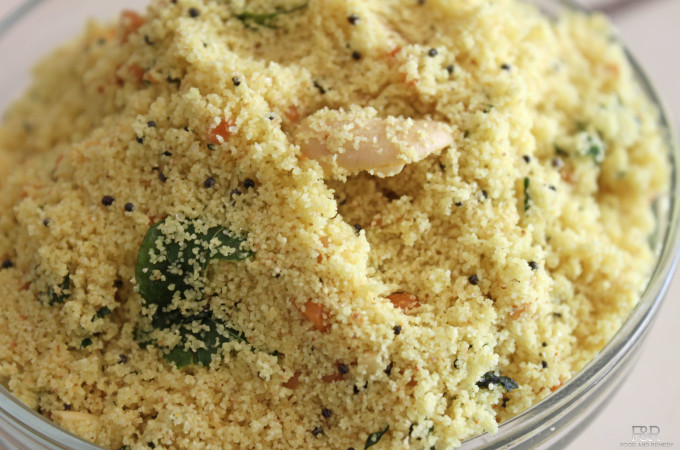 Instant Upma and Rava Idli Mix
Instant rava idli mix and Upma mix is a two in one, very easy to make healthy mix used to prepare a healthy breakfast.
You can prepare this Instant mix and store it in the refrigerator to use when you are in a hurry.
Ingredients:
2 cups of coarse rava/cream of wheat
4 tablespoon oil
1 tablespoon channa dal
1 tablespoon urad dal
2 tablespoon chopped cilantro
4 to 6 chopped green chillies
2 teaspoon mustard seeds
2 teaspoon salt
¼ teaspoon turmeric powder
2 tablespoon cashew pieces (optional)
Note: Checkout Copper kadai or copper bottom wok or pan, here.
Preparation:
Heat the oil in a pan on medium high heat. Once the oil is hot enough (check by adding pinch of mustard seeds to the oil, it has to pop immediately), add all the mustard seeds, channa dal and urad dal. Fry it until it becomes golden brown.
Now add green chillies and fry it for few seconds, then add cilantro, curry leaves, turmeric, and cashews.
Lastly, add rava and fry it for 10 to 12 minutes. It should be light brown. Fry until there is no moisture left. To check, you can just eat a little bit of mix, and it should be crunchy. Now add salt and mix well.
Turn off the heat. Let it cool completely, then store it in the refrigerator.
To prepare Upma:
1 cup instant mix
2 cups water
Boil the water, add the mix to the boiling water. Mix it well, cook it for 5 minutes on medium low heat. If you want, add fresh coconut. Upma is ready. Eat it when it is hot.
To prepare Idli using Instant Rava Idli Mix:
1 cup of prepared instant mix
1¾ cup of yogurt
Mix the instant mix and yogurt together. Leave it for 5 to 10 minutes.
Grease the idli plate, put this batter and steam cook for 5 to 9 minutes. Eat the hot idlis with chutney or sagu.
Enjoy!