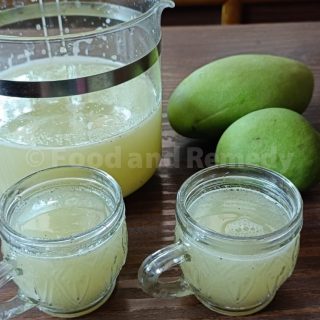 Mango Juice
Here is a simple panaka or juice recipe to offer to lord Rama on this auspicious day.
This panaka is made with seasonal green mango and sugar or jaggery as a sweetener, with refreshing mint , ginger and some spices like pepper as well.
Some of the health benefits of this super healthy Green Mango / mavina kayi are rich in vitamin C and antioxidants. Eating green mango with salt during the summer time helps to prevent water loss from the body. It helps in reducing liver problems and cleans the bacterial infections in the intestine.
It is amazing that the nature gives us the right vegetables and fruits to take care of our body for seasonal changes. Green Mango is available usually during early summer, eating this will keep us hydrated, likewise eating Ellu Bella in Sankrathi keep us away from the dryness of skin.
My sincere suggestion is please visit local markets, buy locally grown Organic vegetables and fruits. Consuming local, seasonal produce helps our body to rejuvenate, heal and moreover it is fresh
Ingredients
2 big

pieces

Green mango

around 8

fresh mint leaves

1

inch

ginger

around 1/4

cup

sugar

quantity depends on the sourness of the mango

2

cups

of water

pinch

of salt

pinch

of pepper powder
Instructions
Wash and grate ginger and mango( discard the peel)

Blend all ingredients

Strain it using a strainer and Green mango juice is ready to serve.