All
Baby food
Basic Items
Beverages
Blog
Breakfasts
Chats
Chutney
Desserts
Dosas
Festivals
Fusion
Gluten Free
Health food - new moms
Healthy Kid Friendly Recipes
Juice
Karnataka Style Gojju
Millet recipes
Minerals
Nutrition
palya recipes
Papads sandige
Papads Sangige and fryums
Payasa / kheer
Pickles
Powders
Quick Vegetarian Recipes
Quinoa Dishes
Ragi Recipe Collection
rasam
Recipes
Remedies
Reviews
Rice Dishes
Salads
Sambar Recipes
Side Dishes
Snacks
Tips
Vitamin A
Vitamins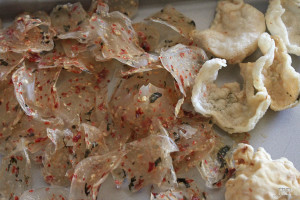 Akki HappaLa / Rice Papads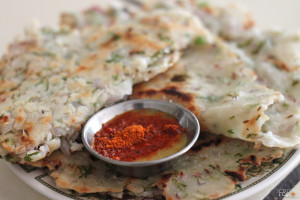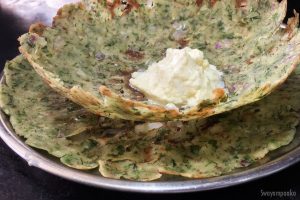 Akki Rotti | Akki Roti | Rice Rotti Recipe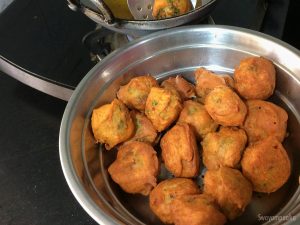 Aloo Bonda Recipe | Potato Bonda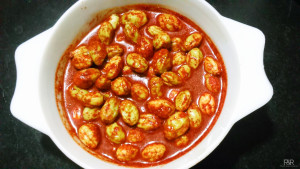 Amatekai or Indian Hog Plum Pickle Recipe, How make Pickle Recipe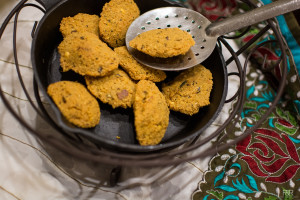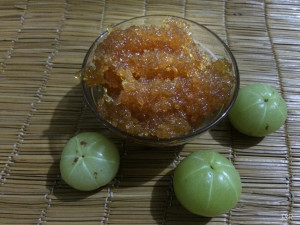 Amla Leha | Nellikai Leha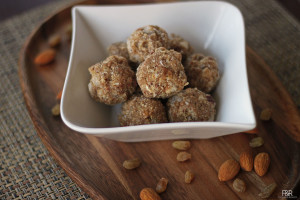 Antina Unde | Dried Fruits Laddu with Edible Gum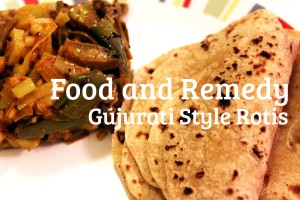 Authentic Gujarati Style Rotis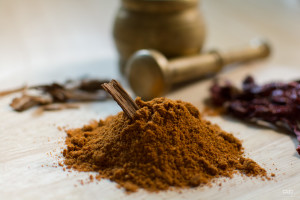 Authentic Vangibath Powder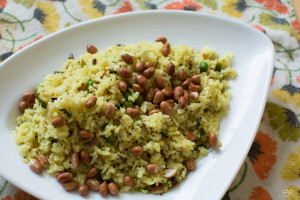 Avalakki Oggarane Recipe, How to make Onion Poha Recipe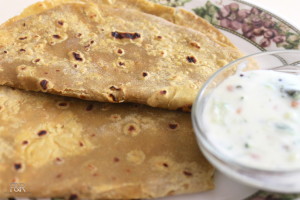 Avocado Roti / Avocado chapathi Recipe (Paratha)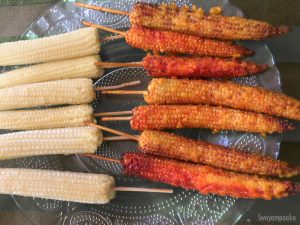 Badam Burfi | Almond Burfi Recipe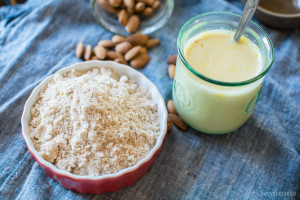 Badam Milk Powder | Badam Malt | Instant Badam Mix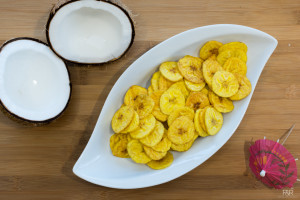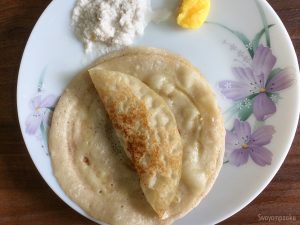 Banana Dosa | Gluten Free breakfast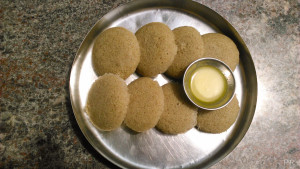 Banana Idli Recipe, Idli Recipes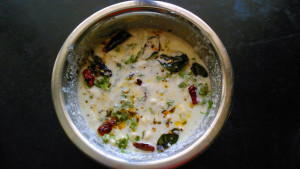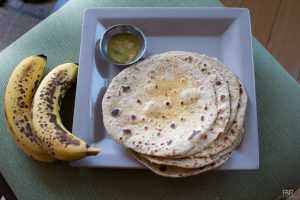 Banana Parata | Banana Chapathi | Karnataka recipes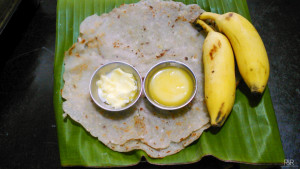 Banana Rotti, Rotti recipes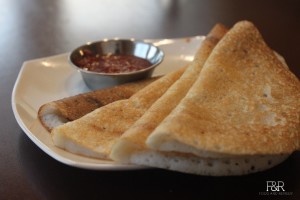 Bangalore Special Plain Dosa | Dosai | Plain Dosa Recipe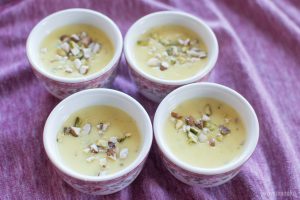 Basundi Recipe | How to make Basundi sweet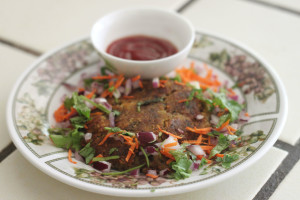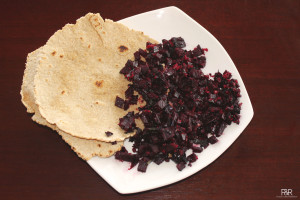 Beetroot Curry with Nutritious Beet Greens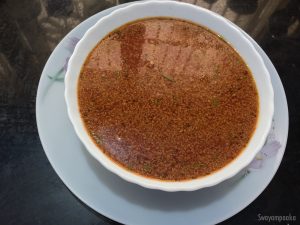 Beetroot rasam | Rasam Recipes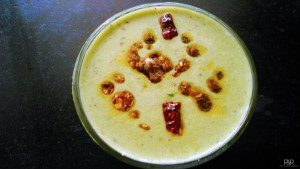 Bell Pepper Thambuli Recipe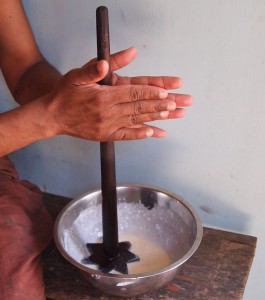 Benefits of Buttermilk | Grandma's probiotic - Buttermilk | Yogurt
Besan Kheer recipe |easy Payasam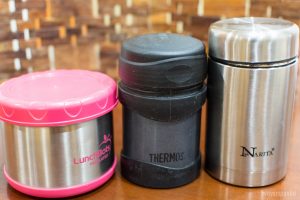 Best Stainless Steel Thermos Lunch Box reviews | 2017 Roundup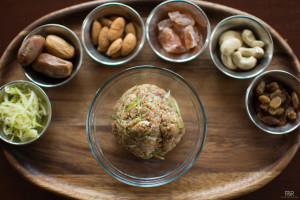 Bevu Bella for Yugaadi (Neem and Jaggery mix )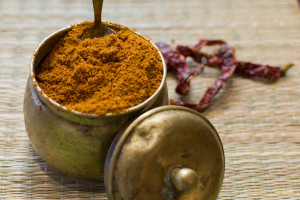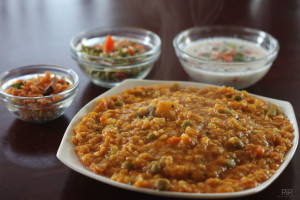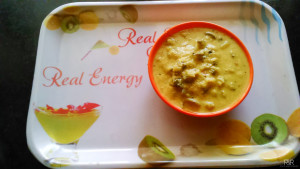 Bitter Gourd Gojju Recipe, how to make gojju recipes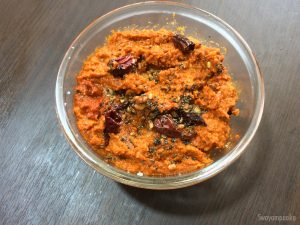 Bitter Gourd Chutney | Bitter Melon Chutney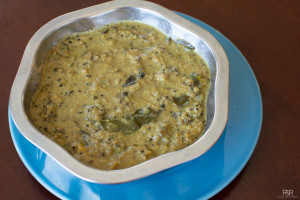 Bitter Gourd Curry Recipe, How to make Gojju Recipes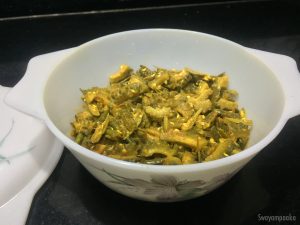 Bitter Gourd pickle | Karela pickle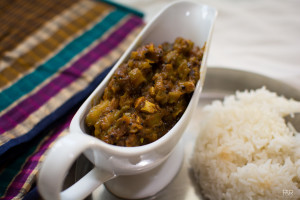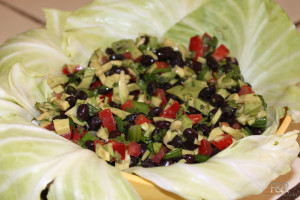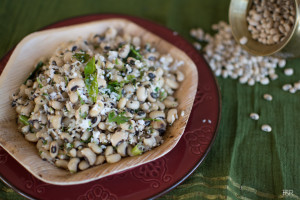 Black Eyed Beans Usli/Sundal Recipe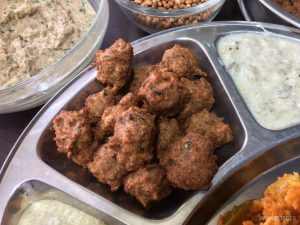 Black Eyed Beans Vada | Cow Peas Bonda recipe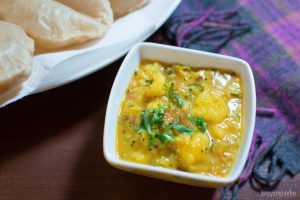 Bombay Saagu Recipe | Potato Saagu | Sagu for poori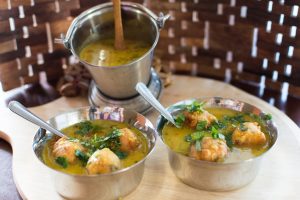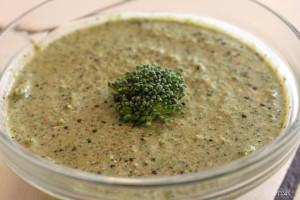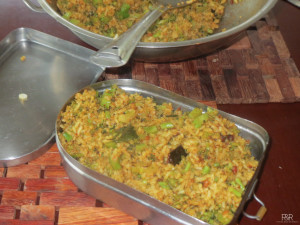 Broccoli Rice | Easy Lunch Box Recipes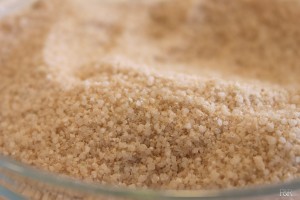 Brown Rice Idli Rava (Akki Thari)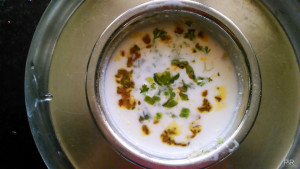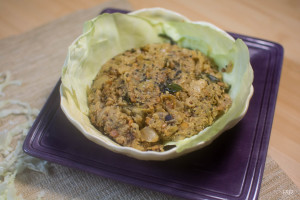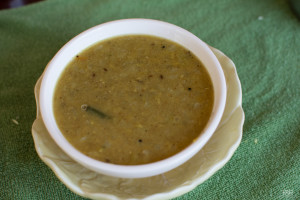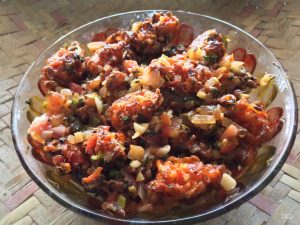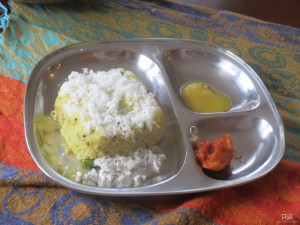 Cabbage Upma Recipe, How to make Rava Upma Recipe
Calcium rich Vegetarian recipes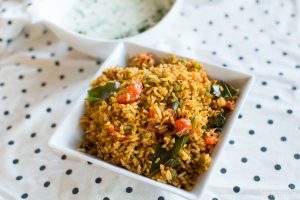 Capsicum Rice | Bell Pepper Rice | Easy Rice recipes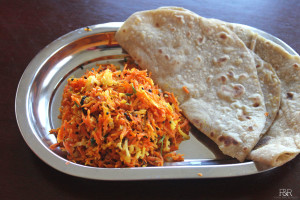 Carrot Pickle | Instant Carrot pickle recipe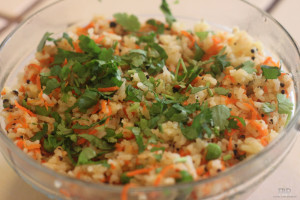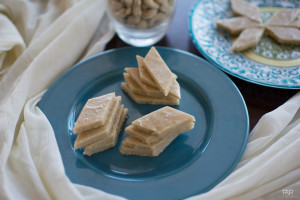 Cashew Burfi Recipe, Kaju Katli Recipe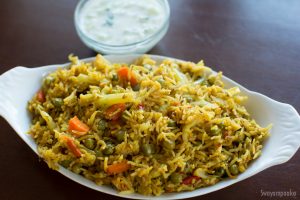 Cauliflower masala rice Bhath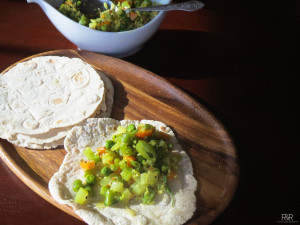 Celery Carrot Beans Stir Fry Recipe, How To Make mixed vegetable Stir Fry Recipe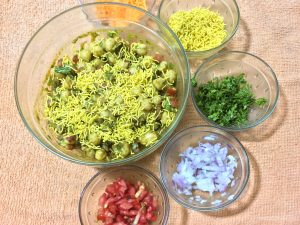 Chana Chaat | Garbanzo beans Chaat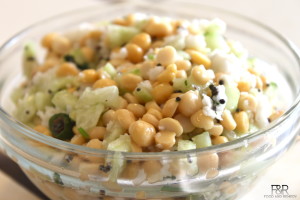 Channa Dal and Cucumber Salad (Kosambari)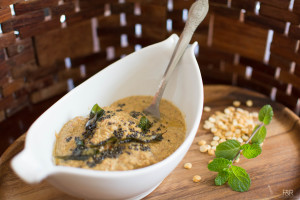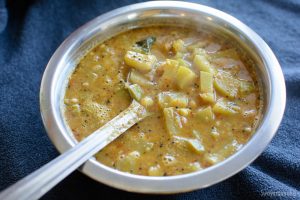 Chayote Kootu | Chow chow kootu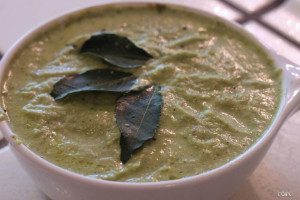 Chayote Squash | Seeme Badanekayi Chutney | Chutney Recipes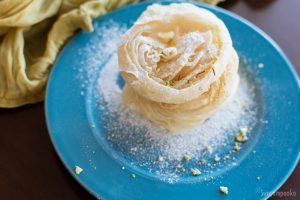 Chiroti Recipe | Chirote | Penori | Padhir Pheni Recipe
Chivda Recipe, Poha Chiwda | Crispy - Spicy Avalakki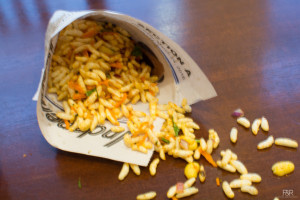 Churumuri | Mysore Churumuri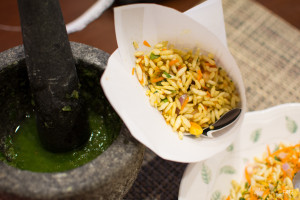 Churumuri | Mysore Churumuri with Greenchilli Masala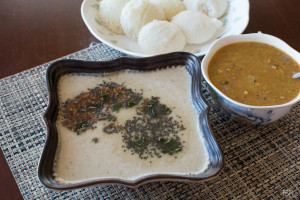 Chutney Powder | Dal Powder | Karnataka Style Chutney pudi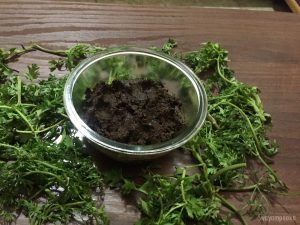 Cilantro Chutney | Coriander leaves Chutney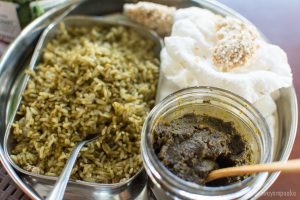 Cilantro Thokku Recipe | Cilantro Pickle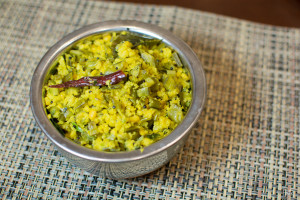 Cluster beans Matvadi palya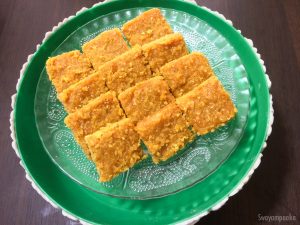 Coconut Carrot Burfi | Burfi using jaggery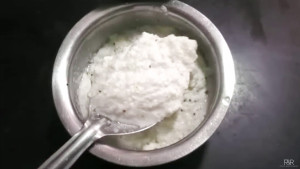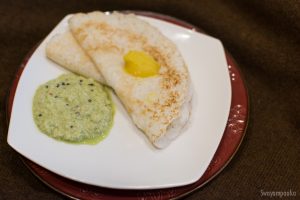 Coconut Dosa | Kayi Dosa| Vegan and Gluten free breakfast
Coconut Onion Chutney Recipe, How to Make Coconut onion Chutney for Dosa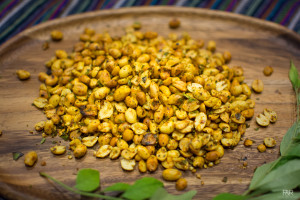 Congress kadalekai / Masala Peanuts Recipe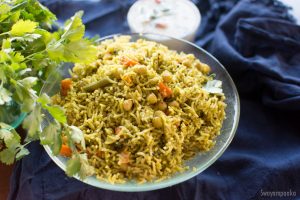 Coriander Leaves Pulav | Cilantro Pulao | Rice recipes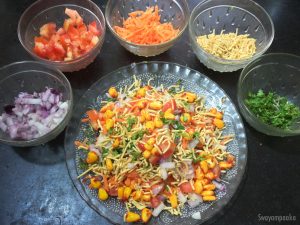 Corn Chaat | Spicy Masala Corn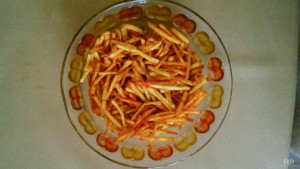 Crispy Sweet potato Fries Recipe, How to Make Chips Recipes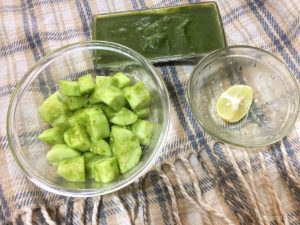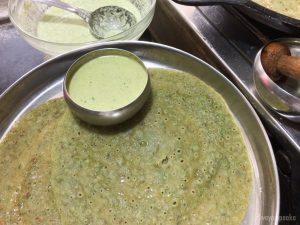 Cucumber Dosa | Gluten Free and Vegan Breakfast
Cucumber Gojju | Southekayi Gojju | Karnataka Recipes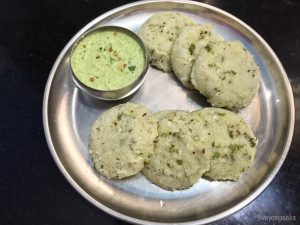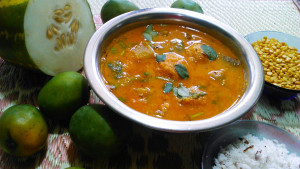 Cucumber Mango Sambar Recipe, How to Make Sambar Recipes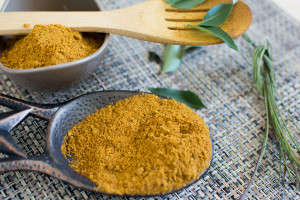 Curry leaves Chutney Powder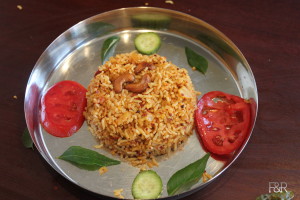 Curry Leaves Rice | Curryleaves Masala Rice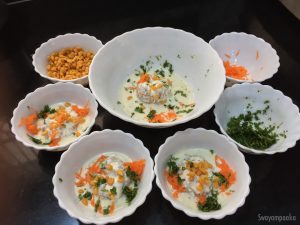 Dahi Vada | Thayir Vada |mosaru vade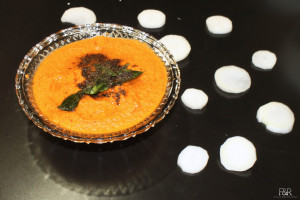 Daikon (White Radish) Chutney| Moolangi Chutney recipe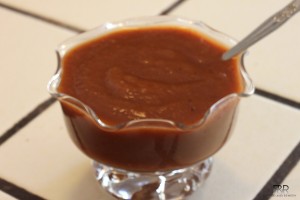 Dates and Tamarind Sweet Chutney | Sweet Chutney for Chaats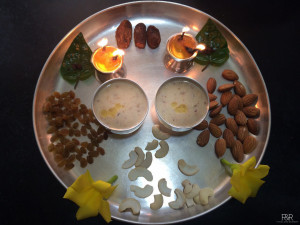 Dates Kheer | Kharjura Payasam Recipe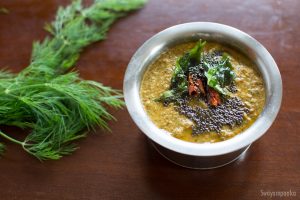 Dill Leaves Chutney | Chutney recipes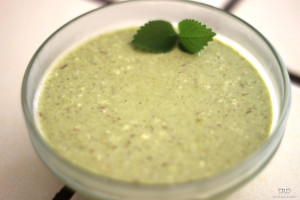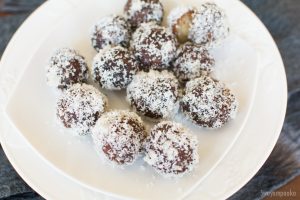 Dry Jamun | Kala Jamun | Indian Sweet Recipes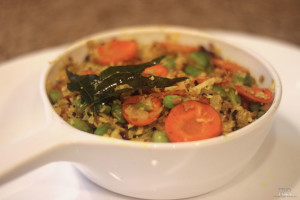 Edamame - Cabbage dry Curry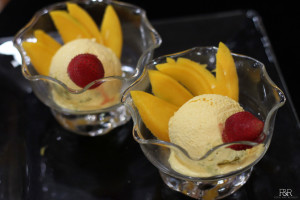 Eggless Ice cream recipe (Mango)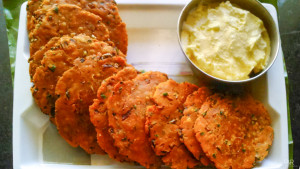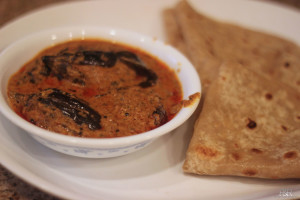 Ennegayi | Stuffed Eggplants | Badanekayi Ennegayi | Stuffed brinjal
Fenugreek seeds Tea | Methi seeds kashaya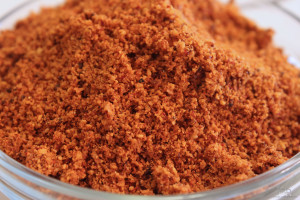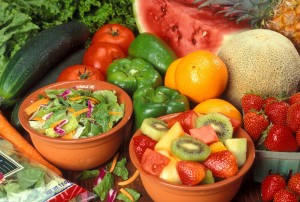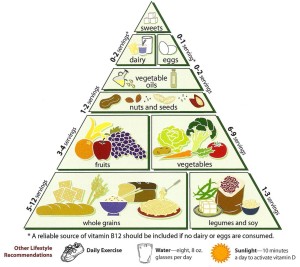 Food, thy name is Medicine
Foxtail Millet Dosa | Neer Dosa Recipe | Millet recipes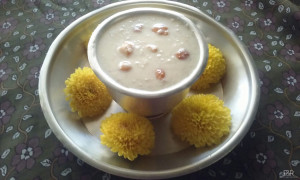 Foxtail Millet Kheer | Millet recipes
Fried Gram Chutney Powder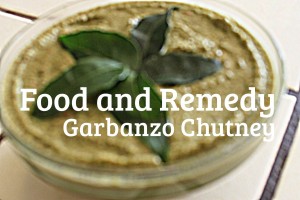 Garbanzo Beans Chutney / Spread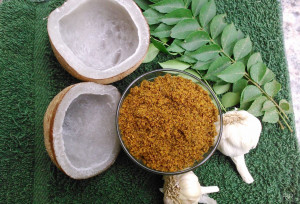 Garlic Chutney Powder, Chutney Powder recipes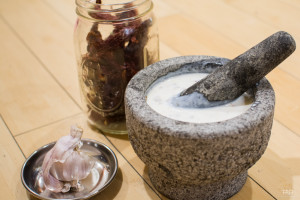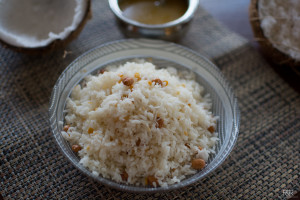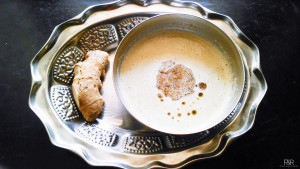 ginger tambuli recipe, how to make ginger flavored yogurt recipe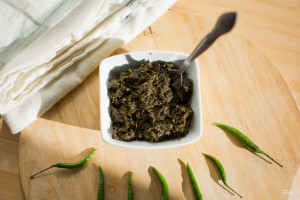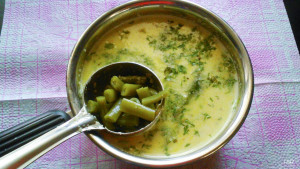 Green Beans in Raw Coconut Gravy Recipe, How to make beans Hasi kayirasa Recipe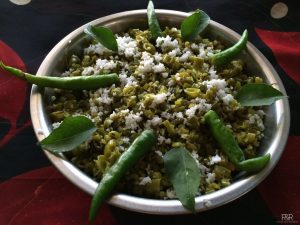 Green Beans Stir fry | Beans Palya | Karnataka Recipes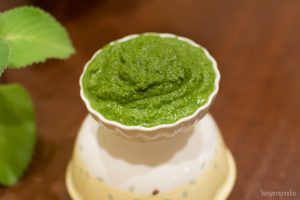 Green Chutney for Chaats | Spicy Cilantro Mint Chutney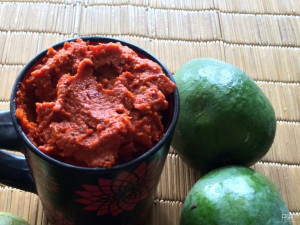 Gulab Jamun using milk powder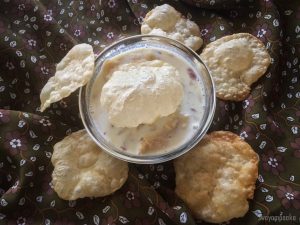 Halu Holige | Poori Payasa Recipe
Health benefits of drinking copper vessel water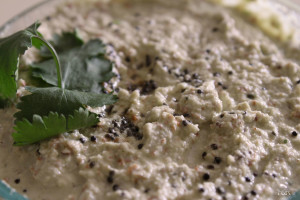 Healthy and Delicious Badam/Almond Chutney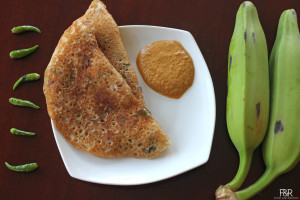 Healthy and Delicious Plantain Dosa recipe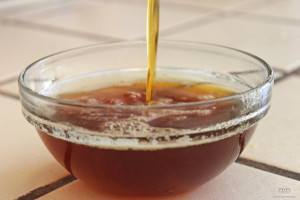 Homemade Butter from heavy whipping and Making Ghee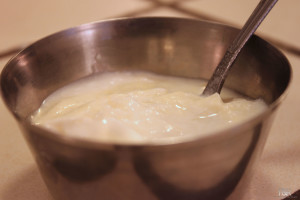 Homemade Yogurt | How to make yogurt at home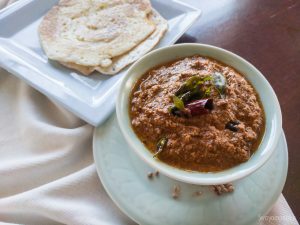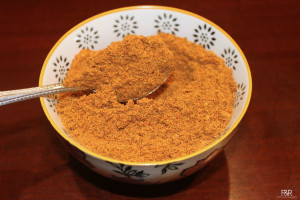 Horse Gram Chutney Powder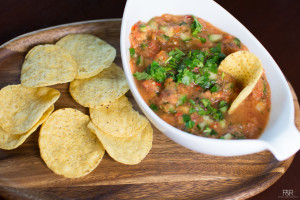 Hot and Spicy, Tropical flavored Salsa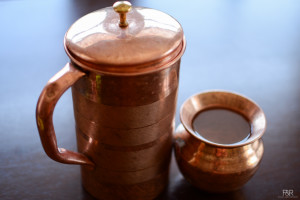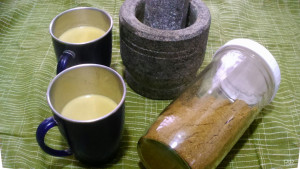 How to Prepare Kashaya using the Kashaya Powder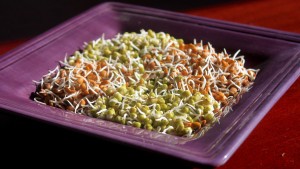 How to Sprout Mung Beans/Moong at home
Hurigadale Mysore Pak | Fried Gram Dal Mysore Pak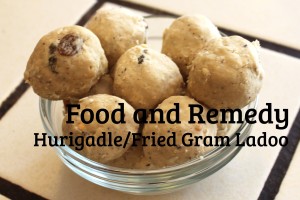 Hurigadale Unde/ Fried Gram Laddu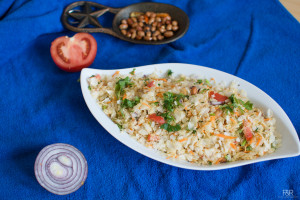 Instant Thin Poha Masala Recipe, How to make spicy avalakki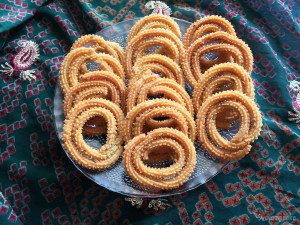 Instant Chakli Recipe | Ganesha Festival Recipes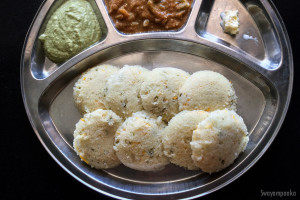 Instant Idli Recipe using Poha and Sooji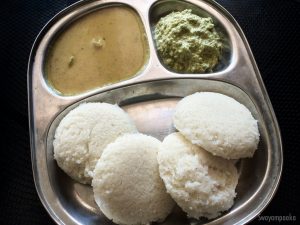 Instant Idli Recipe | Instant Idli using Poha and Idli Rava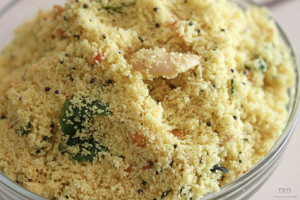 Instant Upma and Rava Idli Mix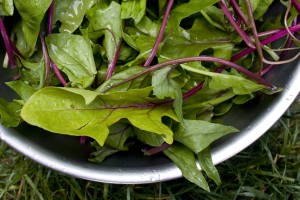 Iron-rich Vegetarian recipes

Is Artificial sweetener usage linked to Obesity and Diabetes?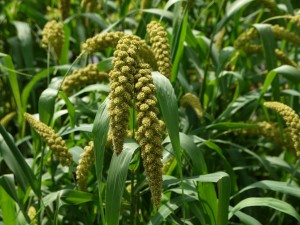 Is it good to switch for a Millets based Diet?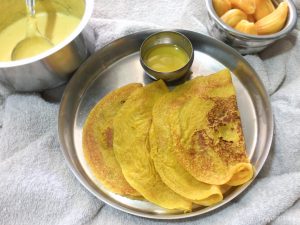 Jackfruit Dosa Recipe | Breakfast Recipes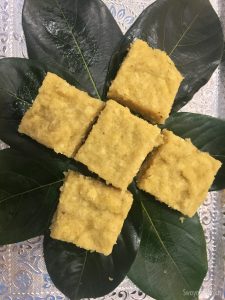 Jackfruit Idli Recipe, How To Make Idli Recipes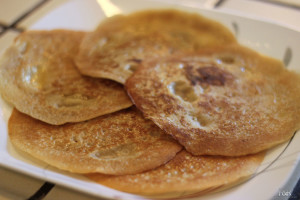 Jaggery dosa | Bellada dosa | Vella dosai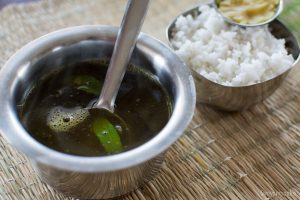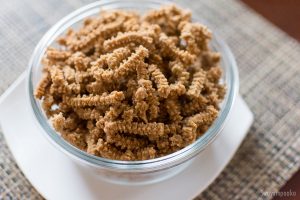 Jowar Chakli | Sorghum FLour Chakli | Vegan and Gluten free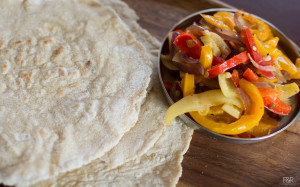 Jowar Rotti / Jolada Rotti
Kajjaya Recipe | Athirasa | DeppavaLi Recipes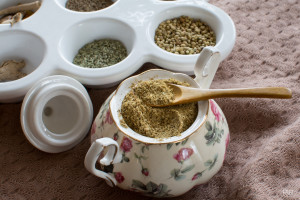 Kashaya Powder Recipe, Healthy Ayurvedic Powder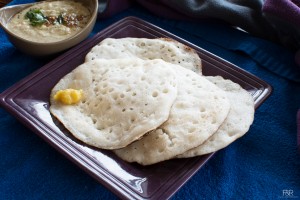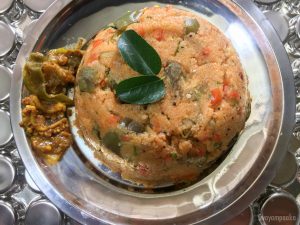 Khara Bhath | Khara rava bhath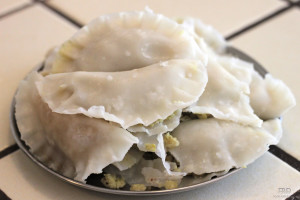 Khara Kadubu | Spicy Kolukattai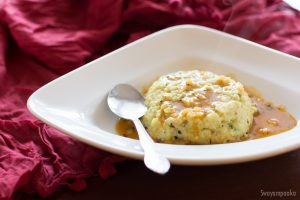 Khara Pongal | Avarekalu Pongal Recipe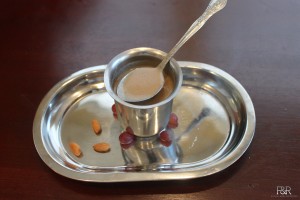 Khus Khus Kheer / Gasagase Payasam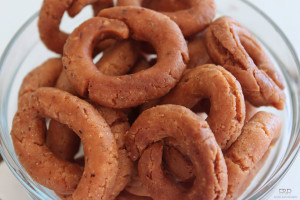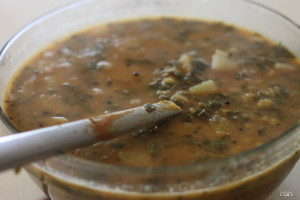 Kohlrabi (Navilkosu) and Lilva (AvarekaaLu) Sambar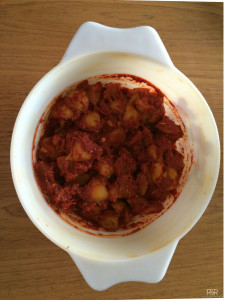 Lemon Rasam | Nimbu Rasam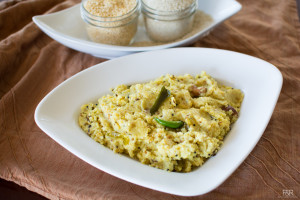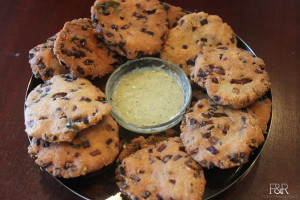 Maddur Vade | Maddur Vada Recipe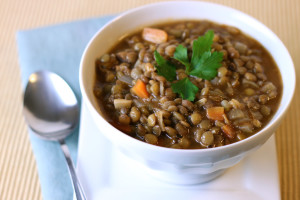 Magnesium-rich Vegetarian recipes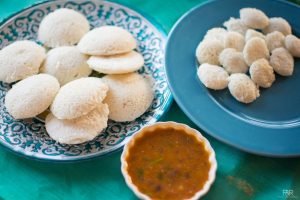 Mallige Idli recipe | Soft Idli recipe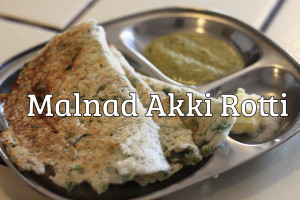 Malnad Style Akki Rotti / Rice Rotti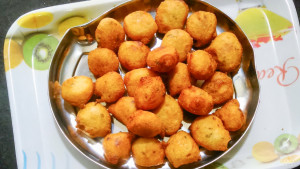 Mangalore Bonda | Mangalore Bajji | Goli Baje Recipe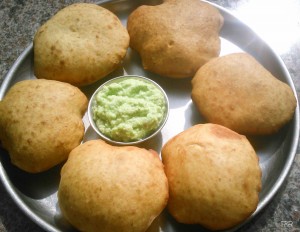 Mangalore Buns Recipe |Banana Poori Recipe
Mango Kesari Recipe | Mango Sheera | Indian Sweet recipes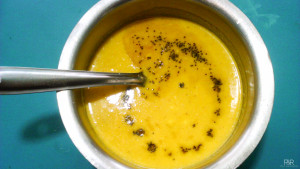 Mango Mustard Gravy in Yogurt, How to make Mango Yogurt Gojju Recipe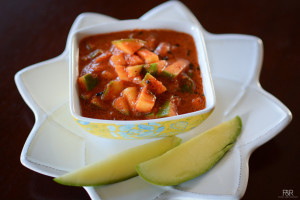 Mango Pickle | Instant Mango Pickle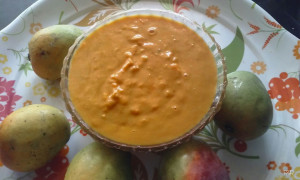 Mango Rasayana | Seekarane Recipe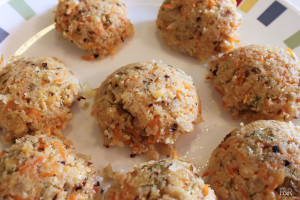 Masala Brown Rice Rava Idli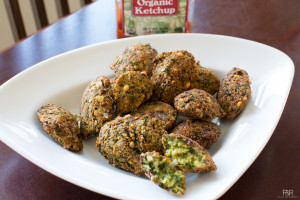 Masala Dalvada Recipe / Masala Ambode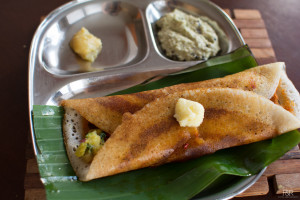 Masala Dosa - Potato Onion Palya and Dosa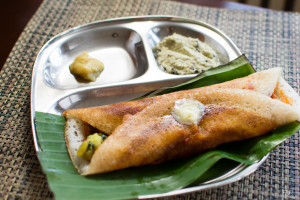 Masala Dosa recipe, how to make the Batter and Red Chutney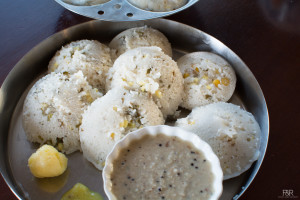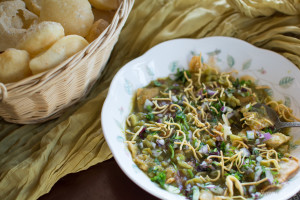 Masalpuri Recipe | Masal puri Recipe | Bangalore Mysore style Masalpuri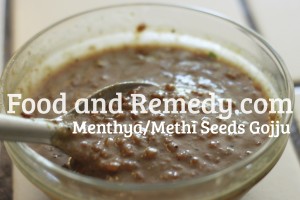 Menthya Gojju/Methi Seeds Gravy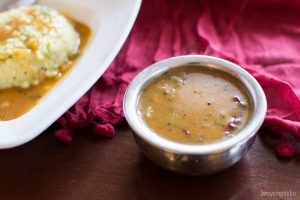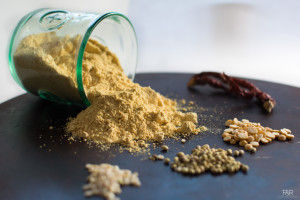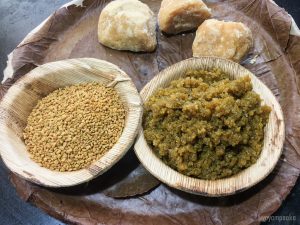 Menthya Leha | Fenugreek lehyam | Ayurvedic leha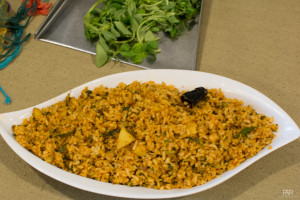 Methi Leaves and Potato Bath | Rice Recipes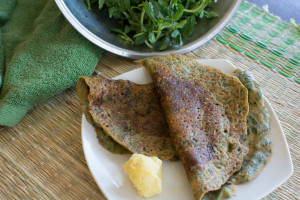 Methi Leaves Dose Recipe, How to Make Dosa Recipe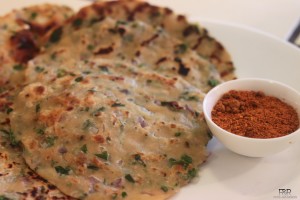 Methi leaves Rotti | Wheat flour rotti with methi leaves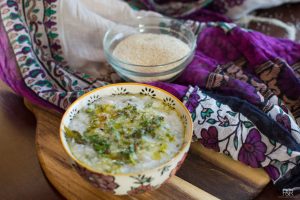 Millet Ganji Recipe | Millet Porridge | Siridhanya Recipes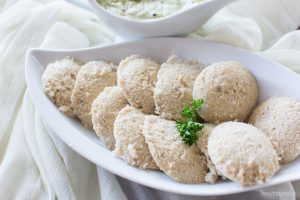 Millet Idli Recipe | Siridhanya recipes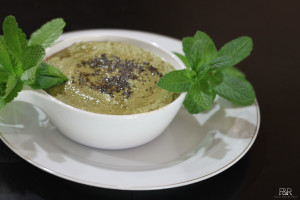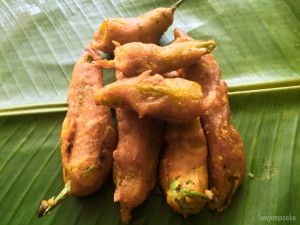 Mirchi Bajji | Chilli Pakora | Menasinakayi Bonda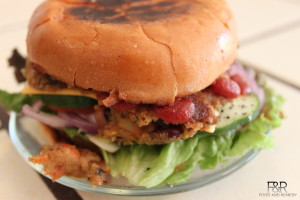 Mixed Bean Vegan Patties and Burger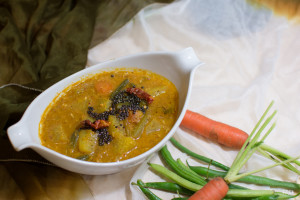 Mixed vegetable sambar recipe | how to make Sambar recipes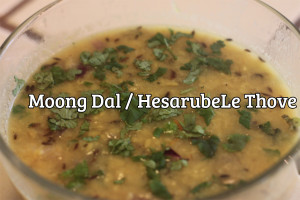 Moong Dal Daal | Rasam Recipes | HesarubeLe Thove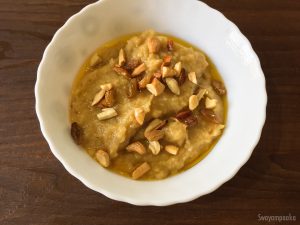 Moong Dal Halwa |Halva recipes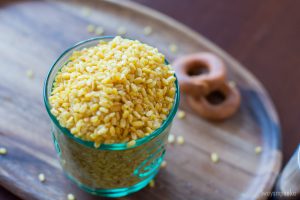 Moong Dal Namkeen | Fried Moong Dal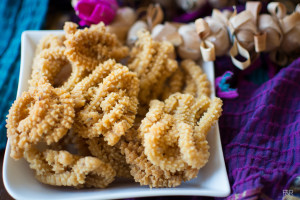 Muchore , Moongdal Chakli Recipe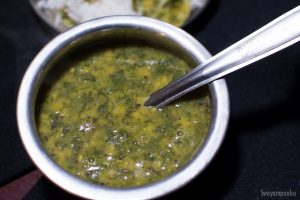 Muddi Palya | Dal with Spinach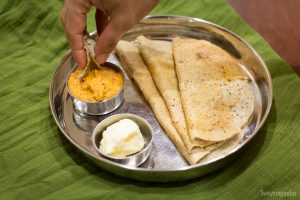 Multigrain Adai Dosa | Methi Millet and whole grain adai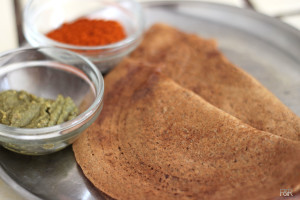 Mung Beans, Methi, Quinoa Dosa | Gluten free Vegan Dosa recipe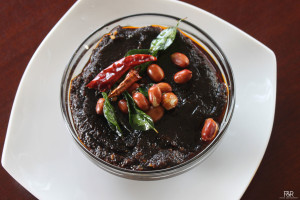 Mysore Iyengar Puliyogare Gojju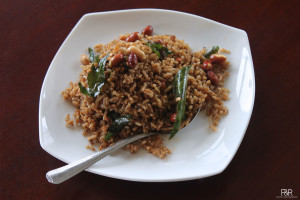 Mysore Iyengar Puliyogare Rice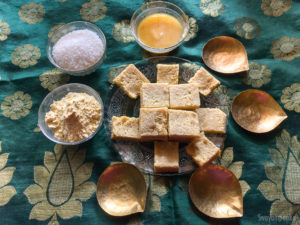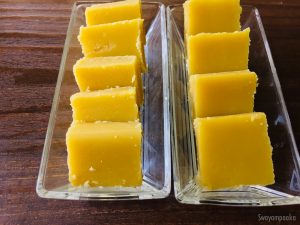 Mysore Pak |Vegan Mysore Pak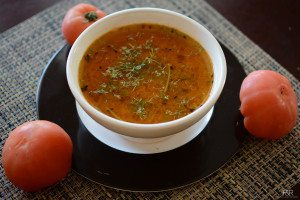 Mysore Rasam | Karnataka style Rasam recipe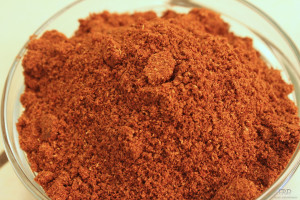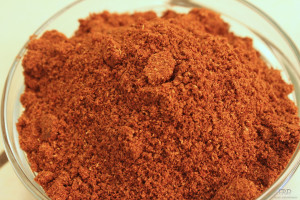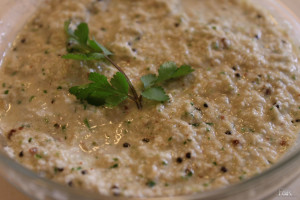 Mysore Restaurant Style Coconut Chutney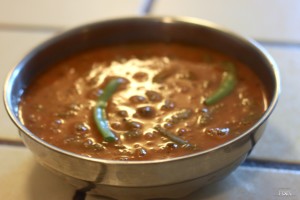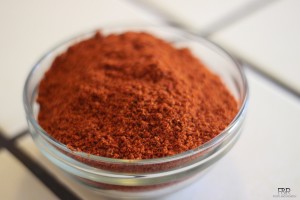 Mysore Style Sambar Powder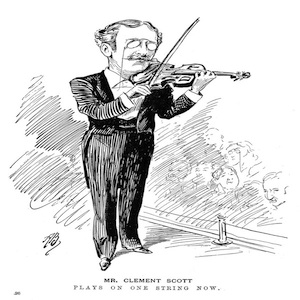 Need grasping power as you get older? Learn music when young!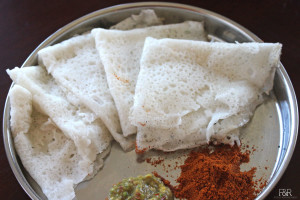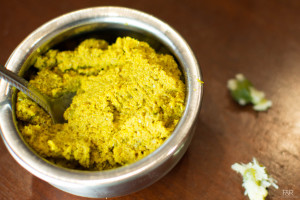 Nellikayi Thokku, Amla Pickle Recipe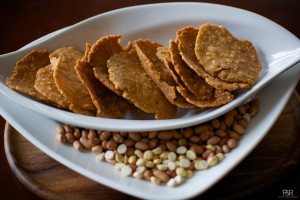 Nippattu - A spicy and crunchy snack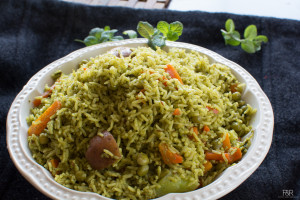 No Onion, No Garlic Mint Pulav | Pudina Pulao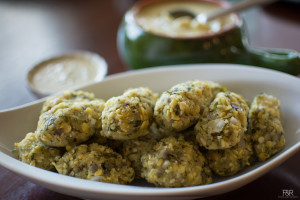 Nuchinunde Recipe, How to make Nuchchinunde Recipe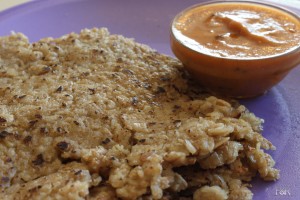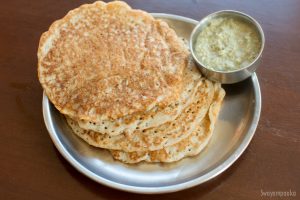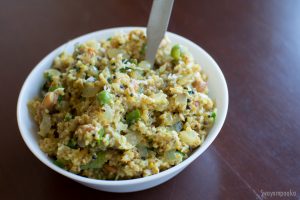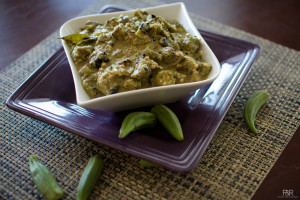 Okra / Ladies Finger / Bendi Gojju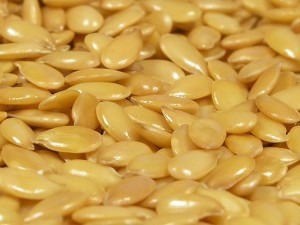 Omega-3 for healthy heart
Paddu / Gundponglu Recipe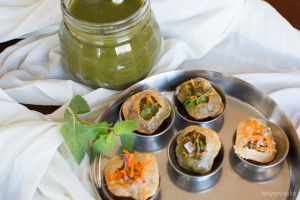 Pani Puri Recipe | How to Make Pani Puri Recipe | Karnataka Style Pani Puri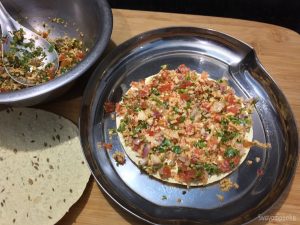 Papad Masala | Masala Papad
Patrode Oggarane Recipe, How to make Patrode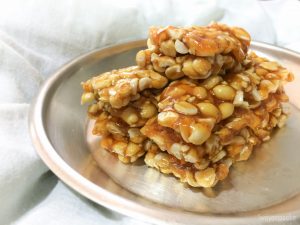 Peanut Chikki Recipe | Groundnut Chikki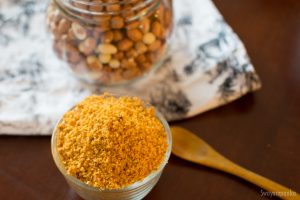 Peanut Chutney Powder | Dry Shenga Chutney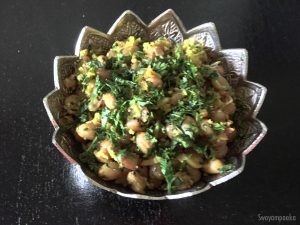 Peanut Usli | Peanut sundal | Groundnut usli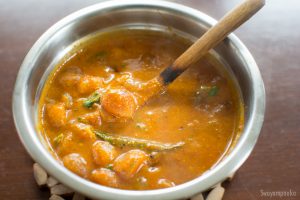 Pearl Onion Gojju | Sambar Onion Curry
Pineapple Gojju | Pineapple in coconut gravy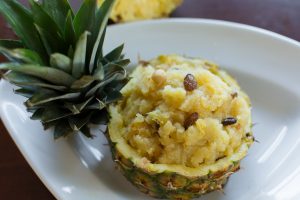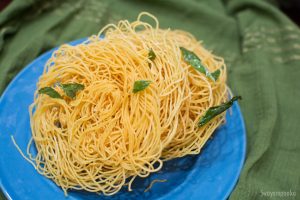 Plain Sev Recipe | Ompudi Recipe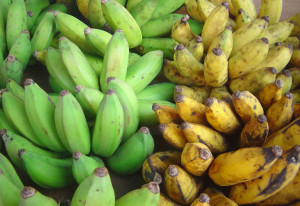 Plantain vs Banana? Which one is better?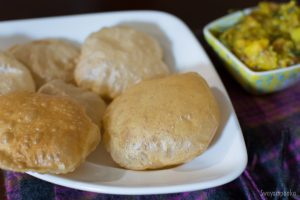 Poori Recipe | How to make Soft and Puffy Poori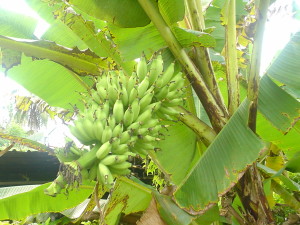 Potassium Rich Vegetarian Recipes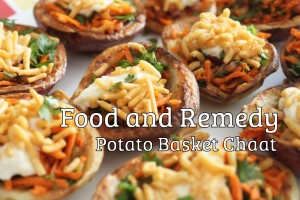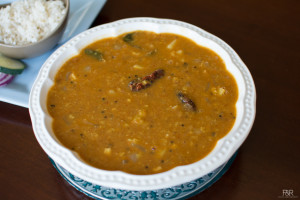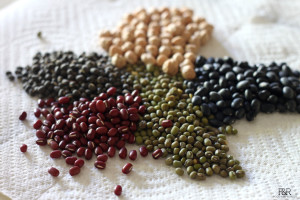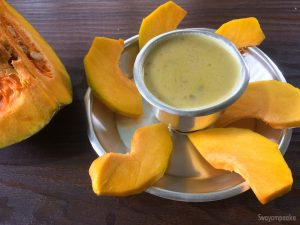 Pumpkin Kheer | Payasa recipes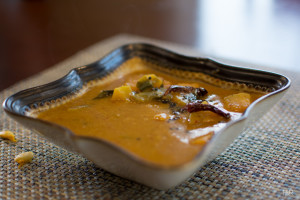 Pumpkin Sambar Recipe, How to make sambar recipe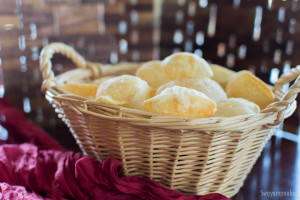 Puri Recipe for Pani puri | How to make Puri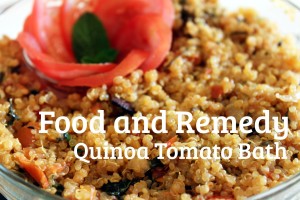 Quick Quinoa Tomato side dish / Tomato bath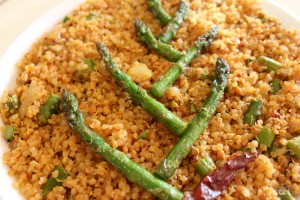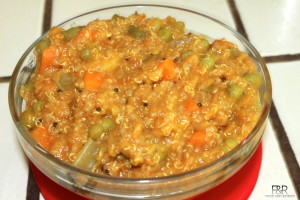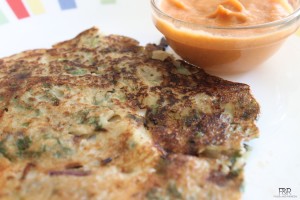 Quinoa Dosa (Quinoa Pancake)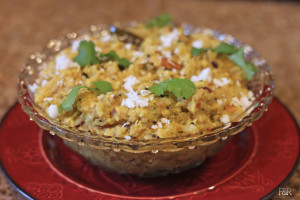 Quinoa Khichadi | Quinoa Recipes | South Indian Recipes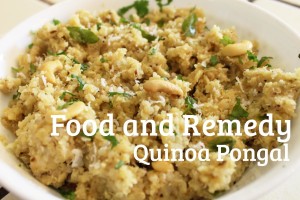 Quinoa Pongal / Spicy Quinoa Pudding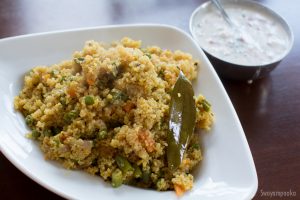 Quinoa pulav |Quinoa masala bhath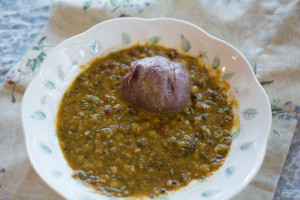 Raagi Mudde Recipe | Millet Recipes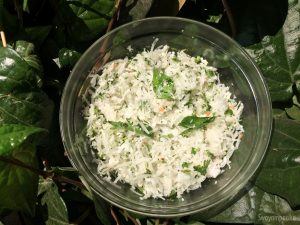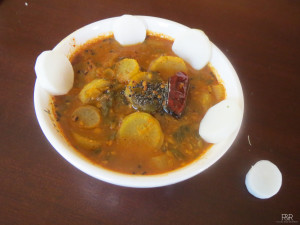 Radish Sambar or Mullangi Sambar Recipe, How to make Sambar Recipes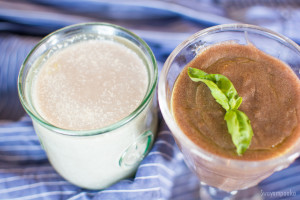 Ragi Ambali | Finger Millet Porridge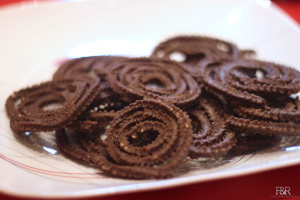 Ragi Chakli | Ragi Murukku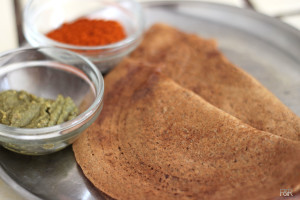 Ragi Dosa Recipe | Finger millet dosa recipe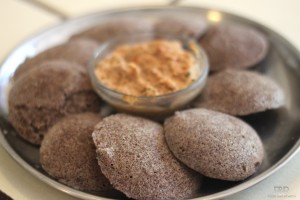 Ragi Idli | Finger Millet Idli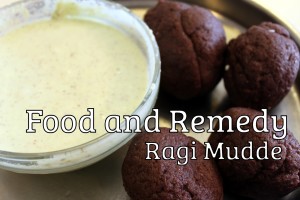 Ragi Mudde with Side Dish | Finger millet balls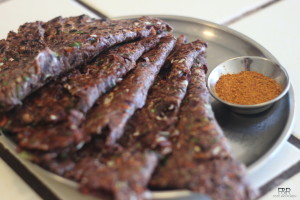 Ragi Rotti |Finger Millet Rotti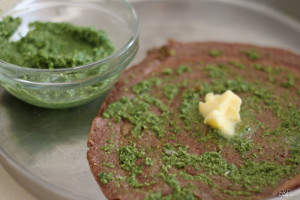 Rajgira / Dhantu / Amaranth Leaves Dosa Spread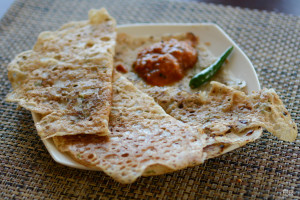 Rava Dosa and Rava Onion Dosa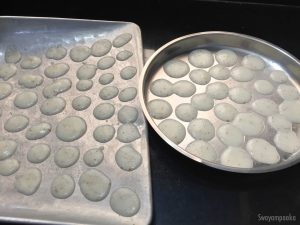 Rava Papads | Rava sandige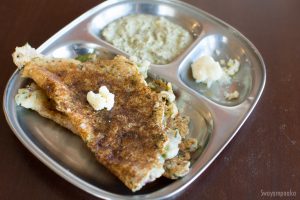 Rava Rotti | Semolina Rotti
Rava Vada | Instant Rava Vadai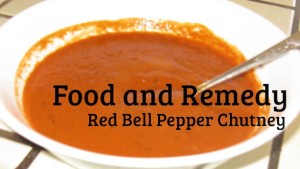 Red Bell Pepper Chutney | Capsicum Chutney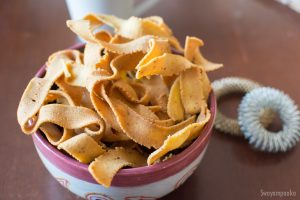 Ribbon Pakoda | Ribbon murukku recipe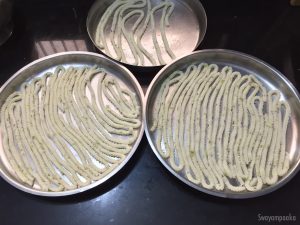 Rice flour Sandige | Akki sandige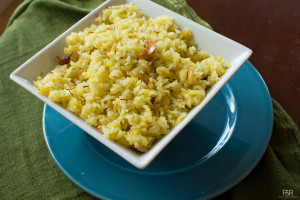 Rice Kesari Bath | Sweet Saffron Rice Recipe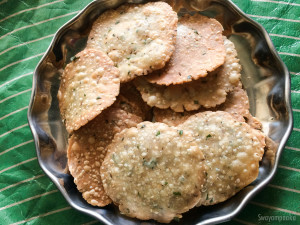 Rice Nippattu | Festival Recipes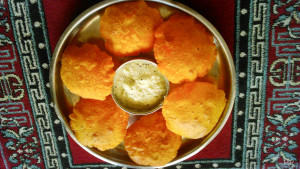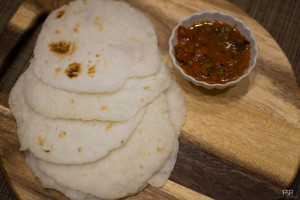 Rice Roti / Ukkarisida Rotti Recipe
Ridge Gourd Chutney Recipe | Heerekayi chatni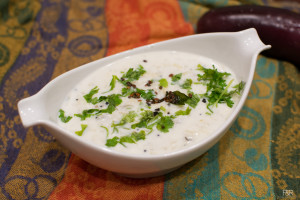 Roasted Eggplant In yogurt Recipe, Badanekayi Mosaru Bajji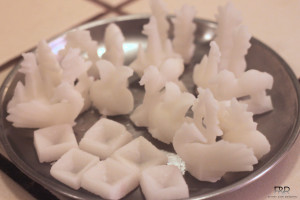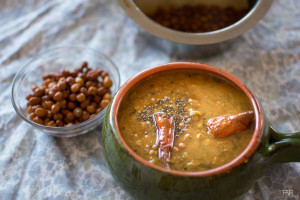 Sambar Recipe - Dill leaves and Black Chana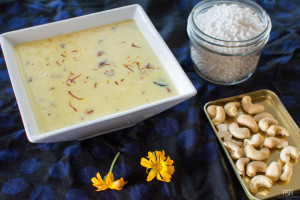 Seeme Akki Payasa | Sabudana Kheer | Payasam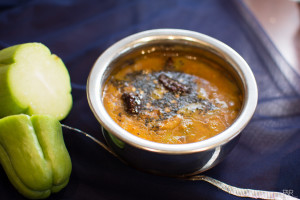 Seemebadane kayi / Chayote Squash Sambar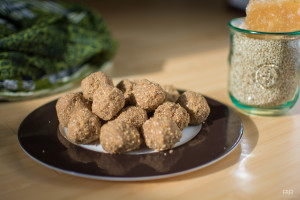 Sesame seeds (Ellu) laddu / unde / Til ladoo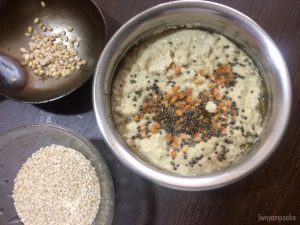 Sesame seeds Chutney | Til Chutney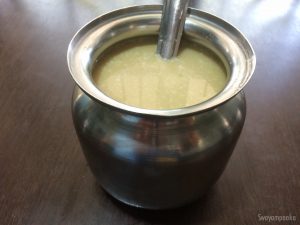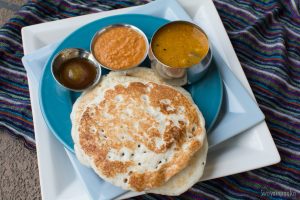 Set Dosa Recipe | Sponge Dosa Recipe
ShankarPoli / Shakkar Pare |DeepavaLi Recipes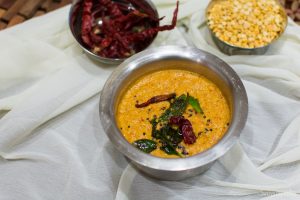 Side Dish For Adai Dosa | Dosa Chutney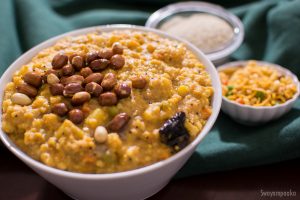 Siridhanya Recipes | Millet Bisibelebath | Barnyard Millet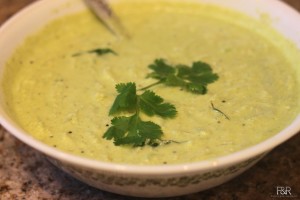 Southekayi Hasi Majjige HuLi | Cucumber in Coconut Yogurt gravy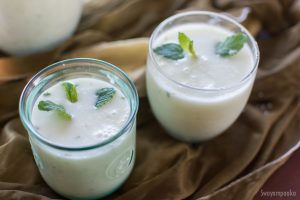 Spiced Buttermilk | Healthy Buttermilk drink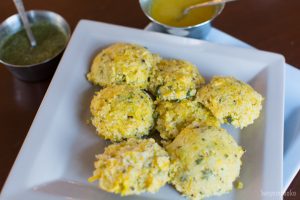 Spicy Pumpkin Idli | Sihi Kumbalakai Idli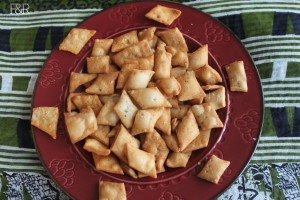 Spicy ShankarpoLi | Spicy Diamon cuts | Khara Shakkar para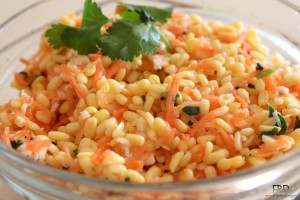 Split Moong Dal and Carrot Salad | Kosambari recipe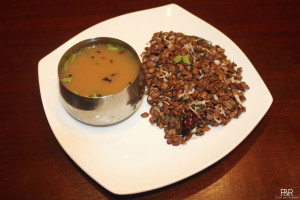 Sprouted Horse Gram Rasam (Hurali Saaru) And Usli (Hurali Palya)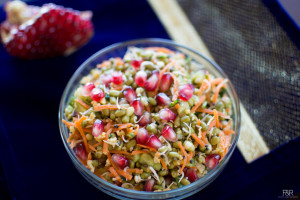 Sprouted Mung Beans/Moong Salad Recipe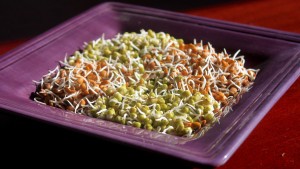 Sprouts - Panacea for Many Ills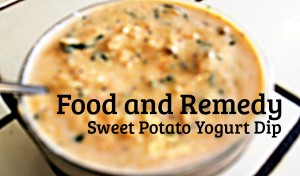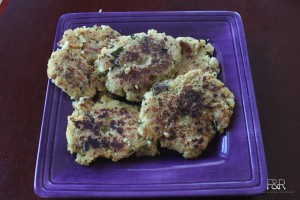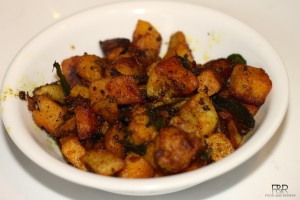 Taro Root Fry | Taro root Palya | Kesuvina Gedde curry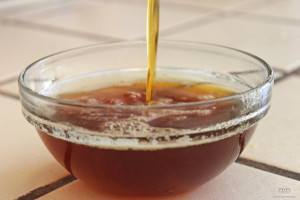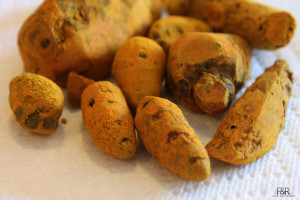 Therapeutic Uses of Turmeric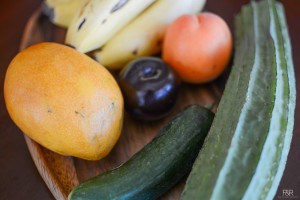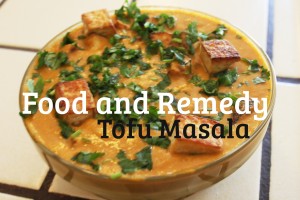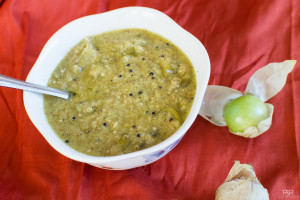 Tomatillo Gojju | Tomatillo in Coconut Mustard Gravy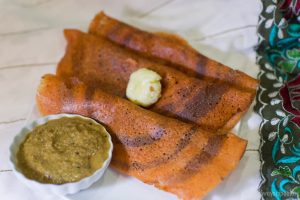 Tomato Dosa | Vegan and Gluten free Tomato Dosa | Dosa Recipes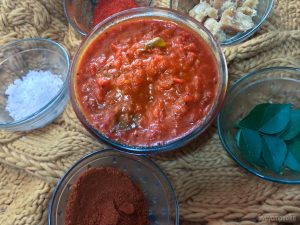 Tomato Gojju | Easy side dish Recipe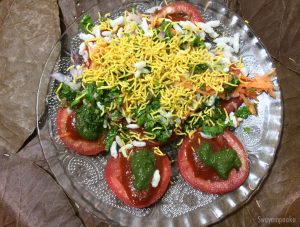 Tomato Masala Chaat | Karnataka chaat recipes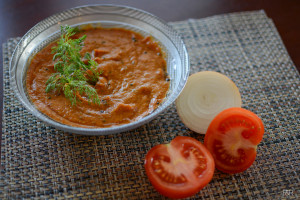 Tomato Onion Chutney | Easy chutney recipes | Restaurant style chutney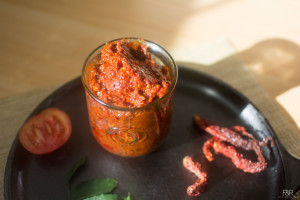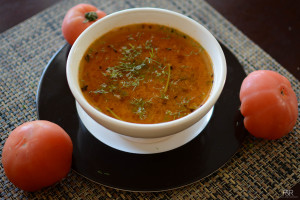 Tomato Rasam | Rasam without toor dal | Rasam recipes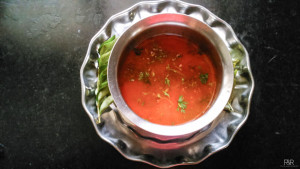 Tomato Rasam Recipe, variety 2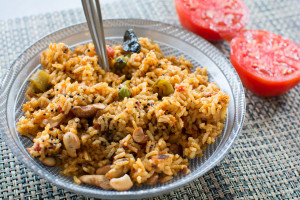 Tomato Rice Recipe, How to make Tomato bath Recipe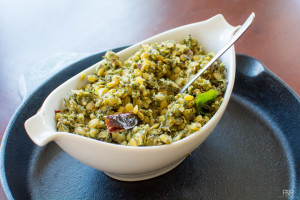 Toor dal - DIll leaves Palya Recipe, How to make Palya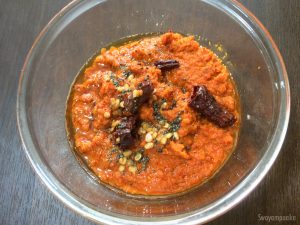 Turmeric Root Chutney | Fresh turmeric root chutney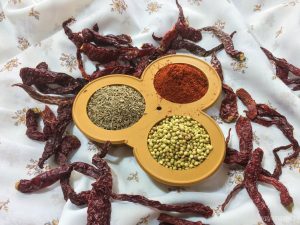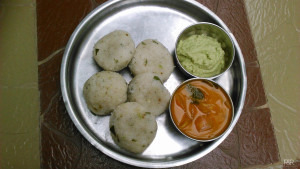 Undlige Recipe, Akki thari Kadubu Recipe, How to make Kadubu Recipes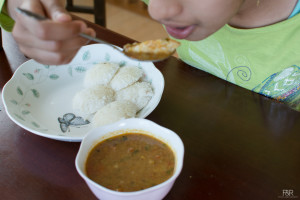 Upahara Darshini Sambar Recipe for Idli and Dosa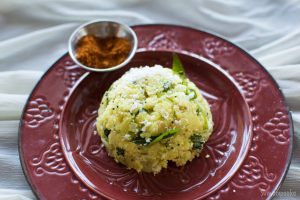 Upma Recipe | Rava Upama Recipe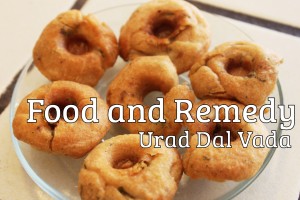 Urad Dal Vada and Thayir Vada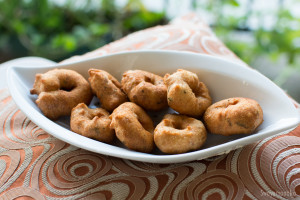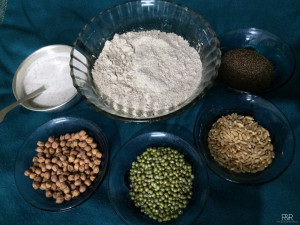 Vaddaragi Hittu |Baby Food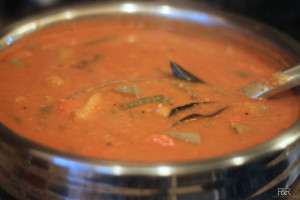 Vegetable Kootu | Mixed Vegetable Kootu | South Indian Recipes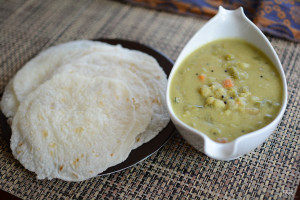 Vegetable Saagu | Mixed vegetable Sagu Recipe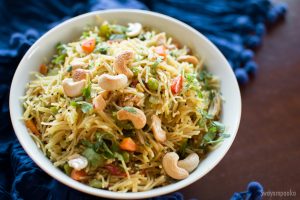 Vermicelli Upma | Shavige Uppittu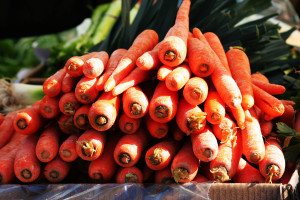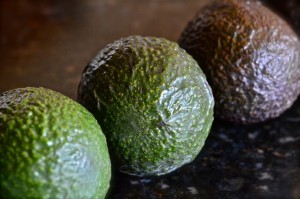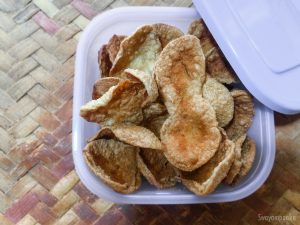 Wheat Fryums | Whole Wheat Sandige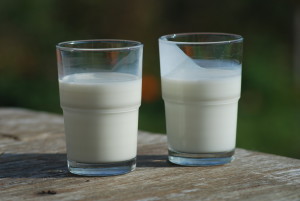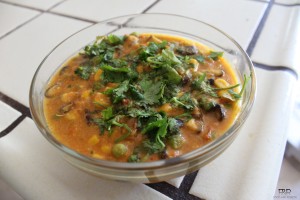 Wholesome Veggie Mushroom Curry
Why is it essential to season your sambar/rasam with mustard seed?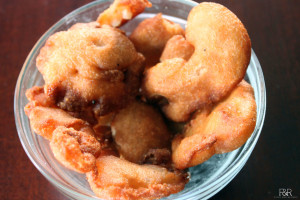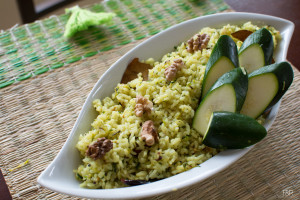 Zucchini Rice Recipe, How to Make Rice Dishes Recipes